JUDGMENT DEBT VISITS KOTOKO: Club to cough up GHc2.5bn in 30 days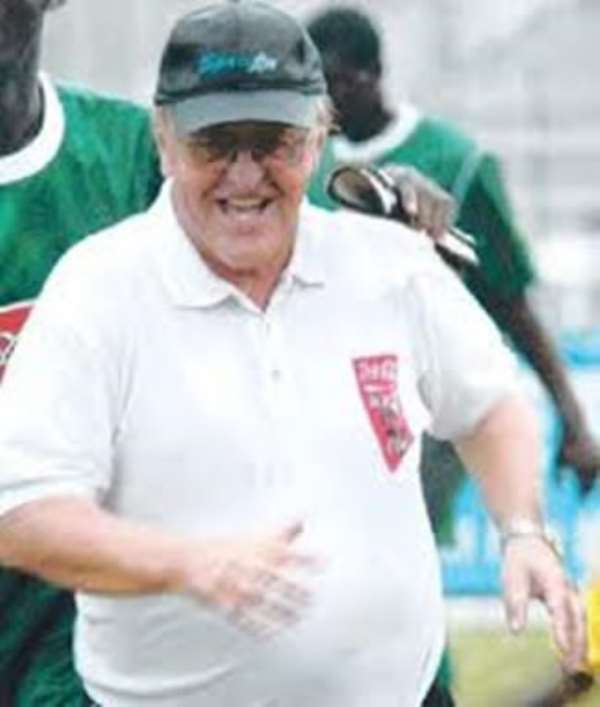 Hans Dieter Schmidt
In a desperate attempt to avoid relegation from top-flight competition, Ghanaian giants Kotoko are asking their supporters to contribute cash to avoid an imminent Fifa punishment hanging around their necks.
The world governing body has asked the Porcupine Warriors to pay their ex coach Hans Dieter Schmidt $133,000 within 30 days for unlawful dismissal, the news broken by Ghana's leading football website www.ghanasoccernet.com has revealed
Failure to meet the deadline set by Fifa could lead to their relegation from the Ghana top-flight league.
Kotoko also have to pay Turkish side Gencelrbirligi $6,500 following the transfer of Adamu Mohammed.
This comes at a time when Kotoko are riding high in the league and are on the verge of sealing the Ghanaian league title under the excellent leadership of Dr. KK Sarpong.
But the order from FIFA is threatening to derail their campaign and they have asked their supporters to contribute financially to avoid the punishment.
Kotoko fans are popular for donating money for the running of the club which has helped to keep the team afloat.
In a related development, former Asante Kotoko coach Hans Dieter Schmidt says justice has been done after the Court of Arbitration for Sports ruled the club must pay him 99,000 Euros for being sacked seven years ago.
The German coach went to Fifa after he was sacked in 2005 without his entitled compensation.
Kotoko must pay the amount in 30-days or face relegation to the third-tier league in Ghana football.
"This is not an issue of sympathy for Kotoko even though I like them very much but this an issue with contract and legalities after seven years. This is justice I feel," Schmidt told Sunyani-based Storm FM.
"They (Kotoko) must know their responsibility and that is what they have to follow now. I have been in contact with (George) Amoako, Dr. Sarpong and Larsen but the issue is beyond me, it is now with the highest body Court of Arbitration for sports.
"As to how they raise the money, it is totally not my issue but the issue of law. Am just waiting for the money because I think I was not treated fairly at all," he said.
Schmidt sent Kotoko to the final of the 2004 CAF Confederation Cup where they lost to rivals Hearts of Oak on home soil.
He was sacked a year after that.