Mancini Frustrated… By Balotelli Antics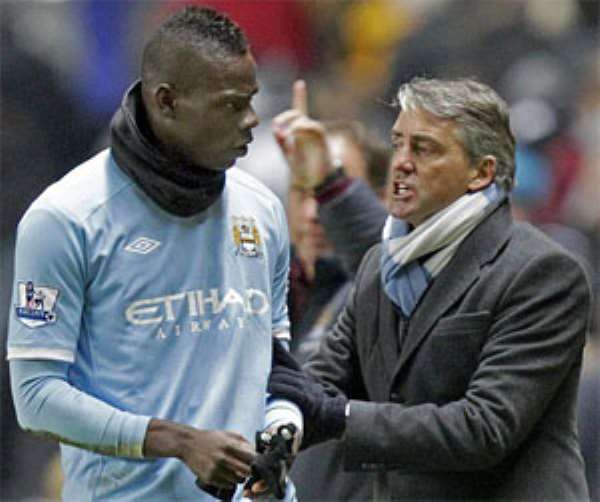 Mario Balotelli and Roberto Mancini
Roberto Mancini was again forced to answer questions about the erratic behaviour of his forward Mario Balotelli as Manchester City surrendered the initiative in the title race with a dramatic 3-3 draw with Sunderland.
The result- the first time a team has taken a league point at Eastlands in 14 months- leaves Mancini's team two points behind leaders Manchester United who play their game in hand at Blackburn today.
Balotelli scored twice, the first a disputed penalty and the second in the 85th minute, before Aleksandar Kolarov salvaged a point with the equaliser four minutes from time on Saturday.
But Balotelli attracted far much than just his goals as he argued with officials, opponents and even had a furious confrontation with team-mate Kolarov as they disputed who should take a free-kick.
With City- now with just one win from their last four league matches – already showing signs of cracking under the pressure of fighting United for the title, the last thing Mancini needs is more distractions from Balotelli.
"I only had Carlos Tevez on the bench but I thought about subbing Mario after five minutes," Mancini said.
"He didn't play well. In a game like this, your strikers need to do something different, not just play for the last two or three minutes – but in the end he scored two goals.
"He and Edin Dezko should be scoring two or three goals in a game like this.
"They know that at the free-kick it should be Aleksandar and Mario on the ball, after that they decide who shoots. This can happen at times like this but this is the last time."
"I think after this maybe (City's) confidence will go down, but only for this afternoon," he added. "United will probably draw on Monday, I don't know why but they will, then we are only three points behind.
"It is hard but after Monday, we have another seven games. Like we have, we need United to make some mistakes in those last games. Maybe United will have difficult moments.
©2011 AFP