Football match caps GGBL employees World Water Day activities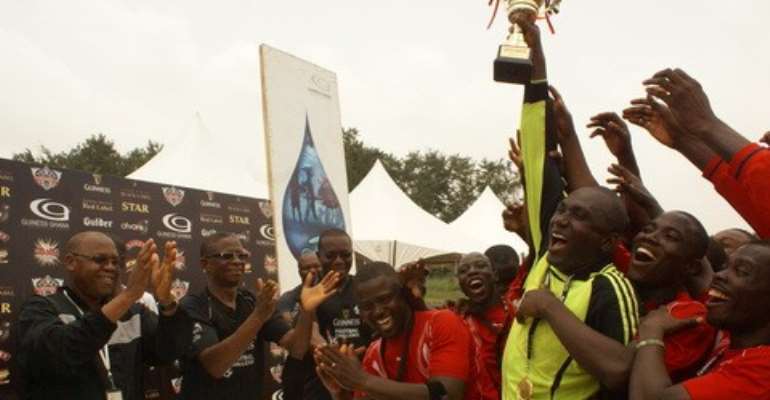 Employees of Guinness Ghana Breweries Limited (GGBL), Ghana's leading total beverage business climaxed the celebrations of this year's World Water Day with an inter-site football match.
The match held at the Ridge Park, Kumasi on 24th March aimed at raising awareness and focus attention on the sustainable use and management of water resources.
World Water Day is commemorated every year on 22 March as the United Nation's designated day to focus attention and advocate for the sustainable use of freshwater resources.
This year, GGBL and its co-founding partner in the Safe Water for Africa (SWA) initiative, the Coca-Cola Company hosted a CEOs fundraising breakfast to engage Corporate Ghana on the innovative partnership aimed at providing access to safe drinking water for some 500,000 Ghanaians in vulnerable communities by end of 2013.
The company also held other activities internally to engage its employees on its flagship community investment programme – including the inter-site football match between employees of its two breweries – Achimota and Kumasi.
After a pulsating goal-less draw in the first half, the host team (from the Kumasi site) came into the second half more determined to pick the coveted Water of Life trophy; and their efforts were rewarded two minutes to end proceedings when a 36-yard free kick was beautifully converted to give the host team the win.
Presenting the trophy to the Kumasi team, Mr. Dan Wenyah, the Brewery Manager, Kumasi said, "World Water Day is a unique opportunity to engage employees and the general public on the sustainable use of freshwater – be it at work or home. GGBL has over the years commemorated World Water Day through a health walk to sensitize Ghanaians of effective water use. This year, among others, employees are playing in this inter-site football match to further drive home the message on the importance of freshwater resources to sustaining lives'.
He congratulated the Kumasi team for lifting the glittering trophy and encouraged all to use water wisely.
On his part, Mr. Richard Ahiagble, Corporate Citizenship Manager, reiterated GGBL's commitment to enriching lives and its flagship Water of Life Programme. He said 'through the Water of Life programme, GGBL has, and continues to empower local communities through access to clean drinking water. This year, GGBL is investing in piping systems in the Tamale Metropolis to bring safe drinking water to two communities in support of the Ministry of Health, the World Health Organisation and the Guinea Worm Eradication programme's aim at making Ghana guinea worm free'. He added that the company is also investing in large scale WaterHealth Centres, under the Safe Water for Africa partnership, to bring safe drinking water to 6 communities in the Northern, Eastern, Volta and Greater Accra region
The company has since 2007 provided access to clean drinking water to many communities in all 10 regions of the country.