Agbeko Marks Birthday…With Sports Media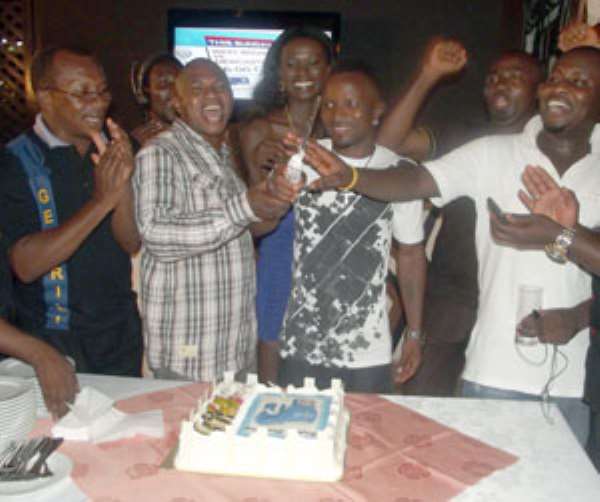 Friends and family join Agbeko to cut the birthday cake
Former International Boxing Federation (IBF) Bantamweight champion Joseph King Kong Abgeko, last Saturday took time off his tight training schedule to interact with the media at the Golden Tulip Hotel in Accra.
The gathering, which was in commemoration of the former World champion's birthday, which fell on Thursday March 22, also served as a platform for a discussion ahead of the champ's World title fight in Accra on May 26.
Joined by pretty actress Lydia Forson and the deputy Ghana Boxing Authority president Ahene Truly, Agbeko dined and interacted heartily with the sporting media in a relaxed atmosphere amid a soothing live band music at the pool side of the Hotel.
After a prayer by Happy FM's General Manager Charles Osei Asibey, he was joined by his trainer Adama Addy and friends to cut his beautifully designed anniversary cake.
He outlined his plans for the forthcoming International Boxing Organization (IBO) Bantamweight title fight against his Filipino opponent Michael Domingo scheduled for May 26 at the Accra Stadium.
'I am preparing feverishly for this bout. I broke my fans' hearts in my last fight and I promise not to repeat what accounted for the loss the other day.
'I can't wait for the fight. We are working tirelessly to put up an impressive performance,' said Agbeko.
His trainer, Addy, pointed out that they were aware of the repercussion of losing the fight before home crowd, so they would go the extra mile to win the title.
'We are working extra hard. Whatever you expected in our last fight and didn't see would be demonstrated here. There is no way we are going to retreat, and I can bet my daughter on that,' Addy said.
By Kofi Owusu Aduonum