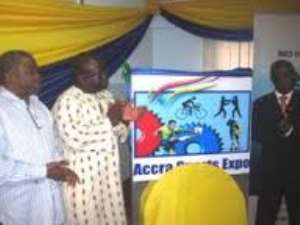 Accra, March 16, GNA – Philip Sowah, Managing Director, Airtel Ghana Limited, one of the leading communication companies in Ghana, will be among the top notch resource persons to speak at the 4th Accra Biennial Sports Expo, 2012.
The event, fixed for 15-18th May, would be under the auspices of RICS Consult Limited in collaboration with a number of institutions, under the theme: "Promoting Africa's Talents Globally: Role of Sports Business", with focus on ways of leveraging all facets of sports business principles and practices to develop and globally promote Africa's sports talents.
Sowah, a prominent figure in the communications industry would speak on the topic; "Usage of mobile phone applications in promoting sports", which is expected to attract more than 150 participants from the various national Olympic Committees, District and Regional National Sports Councils, District/Regional and National Sports Associations and Federations, District, Municipal and Metropolitan Assemblies and the private sector.
According to the organizers, the event would seek to reach consensus on a designed road map to assist African Nations, Governments, Sports policy makers, administrators and performers to rethink sports as an emerging industry with all its attendant benefits to grow African economies.
Sowah whose professional life spans more than 25 years in several industries during which he worked in senior management positions in the telecommunications industry, and information technology and management consulting with BIG 5 and Fortune 500 companies in the United States of America (USA).
He is a graduate of Grinnell College and Washington University and was in 2005, Chief Officer of ONETOUCH (now VODAFONE), where he championed its aggressive expansion from 160,000 to 1.3 million subscribers.
Sowah was named in 2009 as the first Managing Director of Airtel Ghana (formerly ZAIN Ghana), and has worked to build the company's brand earning with string of successes including CIMG Telecoms Company of 2009, 7th place in the Ghana's Most Respected Company 2009, 6th place as CEO of the Year, 2009, while Zain's flagship TV programme; 'TOUCHING LIVES'also won the CIMG TV Programme of the Year, 2009.
GNA