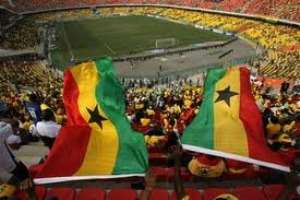 Accra , March 12, GNA - Chairman of the Premier League Board, (PLB) Welbeck Abra Appiah has called for prosecution of football supporters who take the law into their hands and assault match officials.
Abra Appiah is saddened by the spate of violence that engulfed matches at some centers this weekend and believes one sure way of curtailing such ugly behavior would be to prosecute any supporters who are found culpable in such acts.
"The time has come to protect players and officials. I wish the Police can arrest some of these fans and forget the excuse that its football, which is a game of passion and prosecute them so we can save this game and those involved."
There have been widespread reports of violence in Cape Coast and Accra and the PLB Chairman fears the action would be a major setback in his outfit's attempt to raise attendance at the various League centers.
There have been major talking points about attendance at the stadia in recent years following the continued apathy during League games and the PLB boss fears the recent violence could erode progress his outfit has made to overturn the worrying trend.
It was alleged that some irate supporters of Ebusua Dwarfs allegedly assaulted referee Patrick Kyeremanteng after he disallowed a goal in their Week 19 game against Aduana Stars at the Robert Mensah Stadium, Cape Coast on Sunday.
The goal, scored by Bismark Asiedu, which would have been a late equalizer for the homers was disallowed by the referee who was pitilessly beaten up by fans after the game.
In protest of the disallowed goal which had been ruled offside, the supporters invaded the pitch and overpowered security detail at the centre to assault the referee and his assistants.
He said the PLB would wait for the official report and video recordings to aid them in their investigations and the next line of action in their quest to build a violence free league in the ensuing days.
"There will be a strong reaction from the appropriate organs of the Ghana Football Association. We cannot just allow such acts to take place. We will act decisively to maintain the league's integrity. Clubs and their fans will have to be part of the solution and we expect greater tolerance and the proper use of the right organs to address concerns."
Similarly it was reported that Kudjo Fianoo, Chief Executive of Ashgold was assaulted by supporters of Tudu Mighty Jets after the Miners descended on the Accra Sports Stadium to pick all three points off the Tudu-based Club with a lone victory on Saturday.
GNA