Give Me Black Stars - Dunga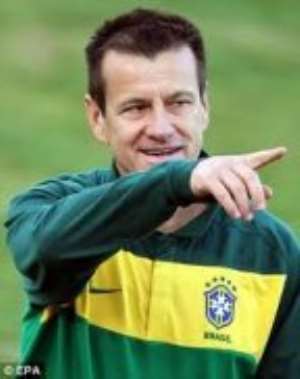 Brazil legend Carlos Dunga wants Black Stars coaching job
Brazil legend Carlos Dunga has put his best foot forward to take over the reins of the Black Stars as it now looks certain Ghana Football Association (GFA) and national coach Goran Stevanovic head to the divorce court after a one-year relationship.
Even before the GFA-Stevanovic plit become official, the 1994 World Cup-winning captain has emerged as one of the suitors for the national team, with reports indicating that Dunga is keen on becoming the fourth Brazilian to handle the national team.
Information available to the Graphic Sports indicate that 48-year-old former Brazil coach is ready to take up the top job for a monthlty salary of $50,000 if the hot seat become vacant with the imminent departure of the Serbian coach affectionately called Plavi.
Dunga coached Brazil to win the 2007 Copa America title and the FIFA Confederations Cup title in 2009, before getting the sack after Brazil crash out of the quarter-finals of the 2010 FIFA World Cup in South Africa where Ghana missed a fine opportunity to become Africa's first World Cup semi-finalists.
A Ghanaian FIFA-licensed agent, Nana Yaw Amponsah, who has been fronting for some expatriate coaches, has confirmed Dunga's readiness to take up his first African job. During the search for Ghana's 21st expatriate coach following the departure of Milovan Rajevac in 2010, Portuguese coach, Humberto Cuelho, working through his Ghanaian agent Amponsah, submitted hias application for the job which eventually went to Plavi.
Three Brazilians had previously handled the Black Stars. The first tactician to handle Ghana from the world's most successful football nation was was Carlos Parreira between 1963 anbd 1965, followed by Oswaldo Sampiao and Ismael Kurtz who took the Black Stars to fourth place at the 1996 Africa Cup of Nations in South Africa