LAKESIDE MARINA FUN RUN: A HOST AND WIN SITUATION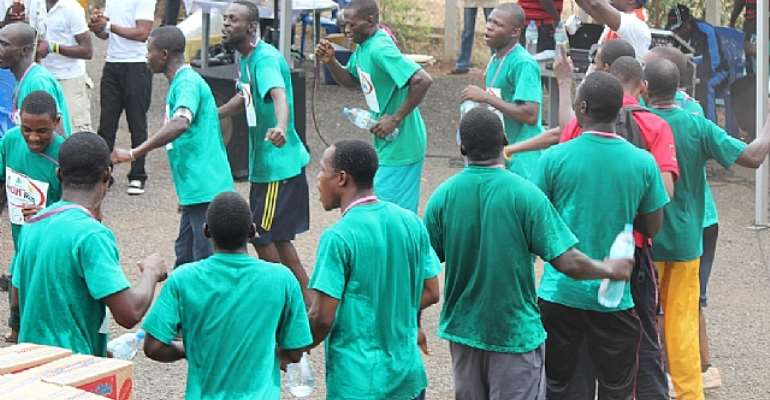 Accra, 6th March, 2012: This year's 6th of March holiday was celebration in a lifestyle conscious fashion as the 2nd edition of the Happy FM and Lakeside Marina 5km Fun Run kicked off at the Lakeside Marina Park in Ashalley Botwe, East Legon. At 7am prompt about a 100 registered participants jetted off from their start point, the lakeside marina park, each hoping to win the coveted title of being the fastest in the various categories.
Representing their various companies at the marathon, CEOs like Philipa Peprah from PIPPA's gym, Edward Boateng of Global Media Alliance and Salah Kalmoni, SilverStar Towers Ltd amongst others, partook with a spirit of camaradie, congratulating each other on their completion of the marathon.
Crossing the finish line amidst cheers and excitement Mr Salah Kalmoni of the SilverStar Towers became the first to finish the marathon in the CEO group, making the occasion a host and win affair. The Marina Group aptly came prepared with their participants accruing a number of medals and awards for being the fastest in almost all the categories.
Crowning the event was the awards ceremony which was filled with excitement and anticipation as the winners were announced for categories like the fastest team, fastest CEO, fastest runner-male and female, fastest child amongst others. Winners walked away with a medal and a gift package which included Silverbird Cinema tickets, a Spa and massage voucher at Royal Richester, Nestle, Milo products, Headphones and so on.
Speaking at the event, Mr Kalmoni expressed his desire for this to be an annual 6th March tradition, to encourage people do something unique on the holiday. He continued by saying that "today proves that we can have fun, network, bond and most importantly promote a healthy lifestyle all at the same time. We wish to congratulate all the participants who came today to compete. The day has been great and we hope next year's will be bigger and better."
This year's marathon is being supported by Japan Motors, Oman Forfor, SilverStar Property, Pippa's Gym, Nestle Milo, Royal Richester and Digital Innovations. Happy FM, YFM, eTV Ghana, Daily Guide, 90 Minutes and Sports Fylla are the media partners for the run.
Happy FM
Happy 98.9FM: Ghana's No. 1 Sports Station
Adjudged Sports Station of the year consecutively in 2006 and 2007 and the Soccer Station of the Year 2009, Happy FM is one of the most successful radio channels with very high listenership across Ghana. Committed to pleasing the local community, Happy FM is Ghana's resource center for sports information and entertainment.
Broadcasting in both English and Twi, Happy FM's interesting line-up includes; Happy Sports (adjudged CIMG Radio Programme of the Year 2009), Sports Review, Black Stars Radio, Sports Talk among others hosted by seasoned sports broadcasters.
Visit Happy FM website: www.happyghana.com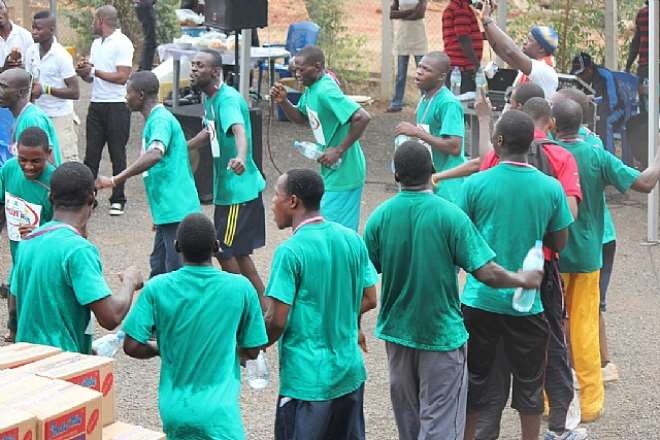 CROSS SECTION OF PARTICIPANTS DANCING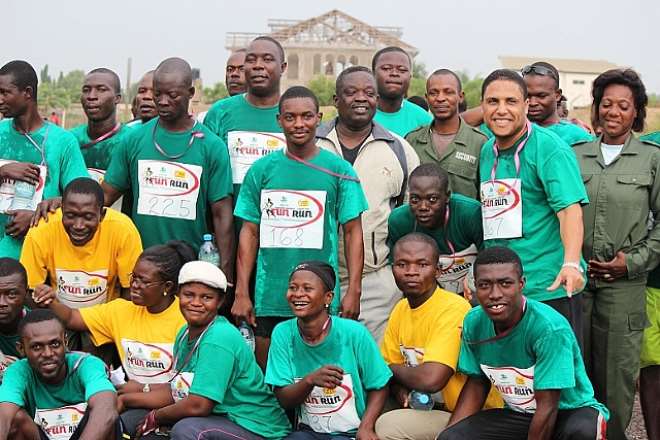 EMPLOYEES OF MARINA GROUP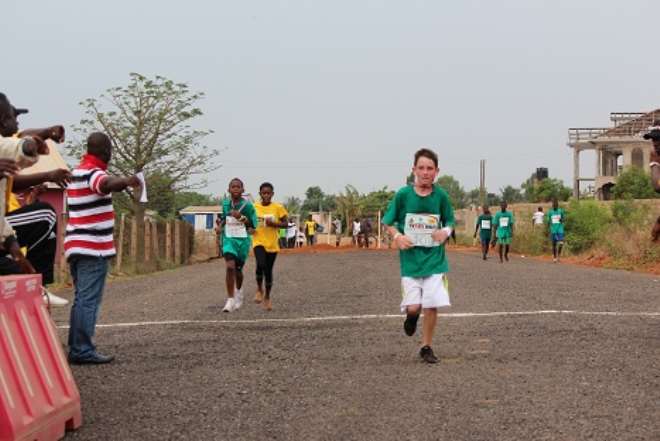 FIRST CHILD TO CROSS THE FINISH LINE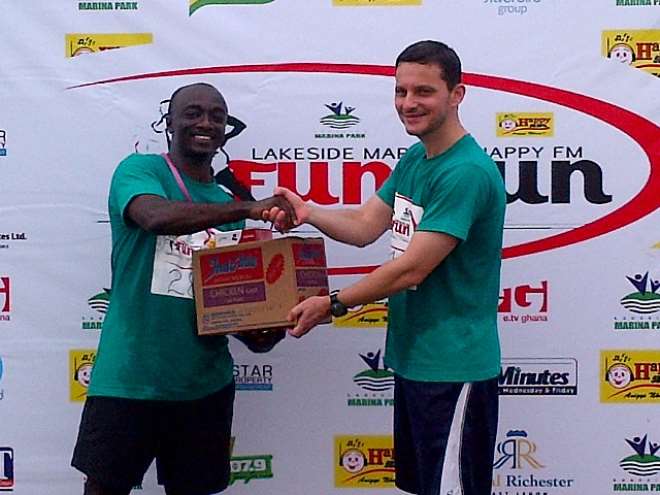 MR EDWARD BOATENG PRESENTING THE DIRECTOR OF JAPAN MOTORS HIS AWARD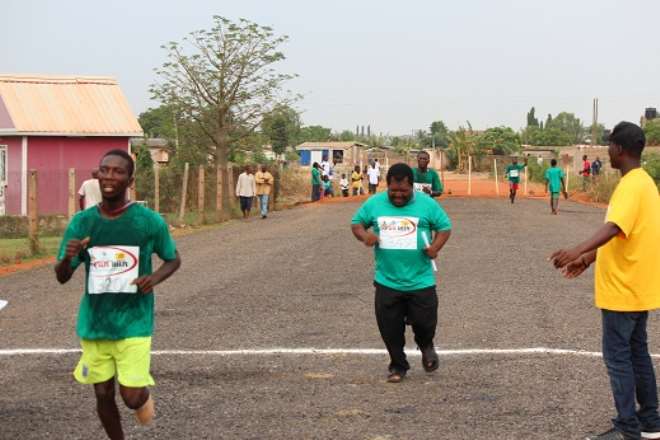 SOME PARTICIPANTS INCLUDING PAPA NII
THE MEDALS