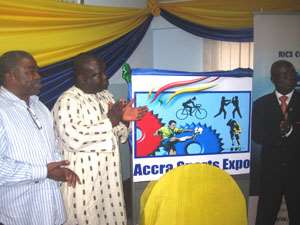 The 4th Accra Sports Expo, a brain child of Rics Consult Ltd, one of the country's top marketing and media relations consultancy firms, has been launched in Accra.
Originally referred to as the Accra Biennial Football Expo, the event has assumed a broader dimension, bringing on board other sporting disciplines.
According the organizers, Rics Consult, the idea was to broaden the event, by including the lesser-known sports, infusing more professionalism and redefining their commercial values.
On May 15 to 17, the expanded version of the Accra Biennial Football Expo which is being arranged in colaboration with the National Sports Authority, is on the theme, 'Promoting Africa's Talents Globally- Role of Sports Business'. It would be held at the Accra Stadium.
The Managing Consultant of Rics Consult Magnus Rex Danquah   pointed out, 'People have different talents. Not everybody can play football. The lesser-known sports are not packaged well in this country, and that is one of the reasons we have decided to give it the needed attention.'
He revealed that cricket, which is considered a lesser known sports in Ghana is a huge sports in India, and he assigned proper packaging as the reason for its success.
He urged all the associations to look for major tournaments like hockey did in 2009, to host, saying 'if all the disciplines will look for major competitions to host, it will improve the game as well as infrastructure.'
In his key note address, Ken Ashigbey, Managing Director of Graphic Communications Group Limited revealed that the expansion of the event from Football to Sports Expo is a natural progression.
To him, the forthcoming Expo, which seeks to empower the youth, sports associations, sports journalists and club owners among others should serve as a career path for the youth especially those in the second cycle institutions.
'Sports is a million dollar industry but our economy is not big. After this Expo, the paradigm must change,' said Ashigbey.
The 4th Sports Expo will take the form of workshops and clinics which will address major sporting issues that will Ghana sports on a higher pedestal.
By Kofi Owusu Aduonum