Veep Calls For Cool Heads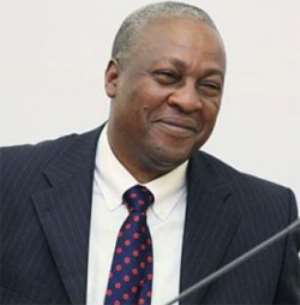 Vice President John Mahama
Ghana's Vice President John Mahama has called for the use of temperate language in the wake of Ghana's failure to win the 2012 Africa Cup of Nations.
There's been mixed reactions from fans with various persons accused of being responsible for the setback.
'The voices of the commentators and callers do not represent the entire Ghanaian population and we therefore need to continue to encourage the players to put up their best in subsequent tournaments,' the Vice President said.
The Vice President indicated that footballers needed to come to the realization that the game was inherent with criticisms.
'I also believe football players should start developing thick skins like some of us have, to stand the wave of criticism that come their way especially after a disappointing result.'
He added that Asamoah Gyan's planned return to the team was refreshing after the striker announced his decision to take a temporal break from the national team.
'It is refreshing to hear that Asamoah Gyan has announced his return to the team soon, but it is important to get him back into the team as soon as possible.'