Nania face 1500 dollars fine plus three 3-year ban for Africa withdrawal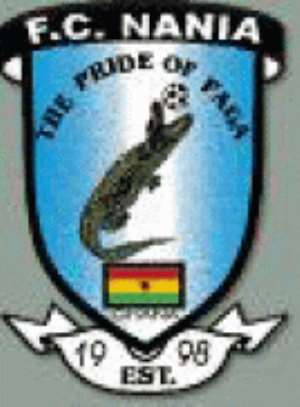 Accra, Feb. 20, GNA – Division One campaigners, Nania FC face a ban of 1,500 US Dollars and a three-year ban for their withdrawal from the 2012 CAF Confederation Cup.
Nania FC, billed to face Guinean club, Sequence FC at the weekend at the preliminary round, announced their withdrawal from the second-tier continental Club Championship few days before the first leg clash citing financial constraints.
Information gathered by GNA Sports in Accra on Monday indicates that the FA Cup holders will be handed the punishment as enshrined in the regulations of the competition.
Article 13 of the regulations of the CAF Confederation Cup stipulates that clubs which withdraw from the competition will taste such penalties for their 'unfortunate' actions.
"Withdrawals declared before the start of the competition and until the 1/8th final round inclusive, shall entail a fine of 1500 dollars in addition to losing the engagement fees.
"Apart from the financial sanctions, every Club withdrawing from the competition after the establishment of the fixtures will be forbidden from participating in all CAF inter-clubs competitions for three years following its withdrawal," portions of Article 18 reads.
Meanwhile, the withdrawal of Nania is expected to further stain Ghana's participation in the continental Club Championships.
Ghana's participation in the CAF Champions Club and the Confederation Cup, which has dwindled from the two clubs per each competition to one representative per championship, is expected to remain same at least for the next year.
Ghana is unfortunately also expected to be ranked outside the top 12 countries guaranteed two slots per the two competitions when the ratings are released later in the year.
In the recent past, Kpando Heart of Lions and Tema Youth were also banned from withdrawing in the competition.
GNA