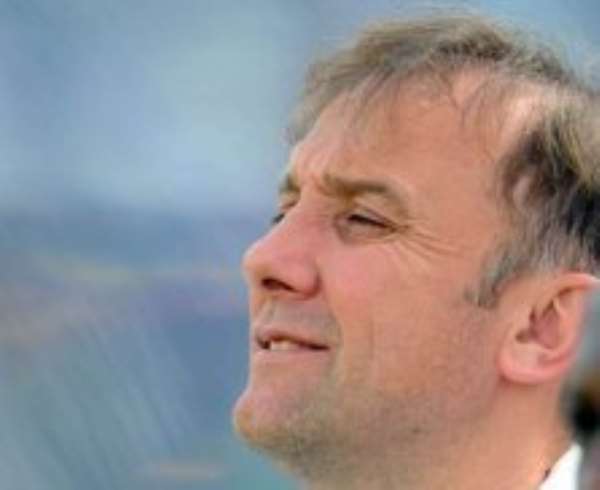 Goran Stevanovic - Black Stars Coach
We reproduce an article which was first published in the January 18-20, 2011 issue of the Graphic Sports authored by SAMUEL EBO KWAITOO days after Goran Stevanovic's unveiling as the new Black Stars coach.

One thing newly appointed Black Stars coach, Goran Stevanovic, said at his unveiling on Wednesday which will linger on in the minds of Ghanaians is his firm promise to make Ghana champions again.
"It's been many years since Ghana won the African Cup. But it's time for trophies. It's time to be first again, it's been a while," he assured at the packed news conference.
Really? To say that assurance will be music in the ears of of most soccer-loving Ghanaians will be an understatement.
The reason is simple: That one significant title that has eluded the four-time champions for 29 years now.
Whether the Serbian coach's prediction can stand the test of time or not, only time will tell since so many factors have to come into play to make it happen.
I beg to differ with the school of thought which believes that Goran is bound to succeed like his predecessors - Ratomir Dujkovic and Milovan Rajevac - on account of the Serbian equation.
That his fellow countrymen, Dujkovic and Rajevac, excelled is no guarantee that Stevanovic will also follow the same trend.
But one thing that is certain is that Ghanaians will judge Goran by his initial comments at his unveiling at the GFA Secretariat on January 12, 2001. You mark it!
Lucky Stevanovic knows too well that he has been favoured for the Black Stars job above some more qualified coaches who were in the race with him, including accomplished Ghanaian Herbert Addo who made it to the final three alongside Portuguese Humberto Coelho who also has a huge African experience.
"I am delighted and grateful to be chosen to coach the highly respected team, Ghana. I know many coaches would have liked to be in my shoes and that makes me delighted with the challenge," Goran confessed while admitting the huge challenge which lies ahead of him.
"My job would not be easy, but I am delighted. My biggest challenge would be to motivate the players to believe they can do better because they have achieved a lot. I must also congratulate my predecessor (Milovan Rajevac) for the work he did.
"To me, Ghana is among the best five teams in the world and I need to make sure we continue to achieve."
These comments clearly reveal that the 44-year-old Serbian has a fair idea of his job description and Ghanaians' expectation of the successor of the man who took Ghana to the quarter-finals of the South Africa 2010 FIFA World Cup.
Goran takes over the reins of the Black Stars with a modest coaching background which includes playing the role of an assistant coach for the national team of Serbia and Montenegro at the Germany 2006 World Cup, as well as winning the Serbian league with Partizan Belgrade also as an assistant coach. But like most expatriates who have previously handled the senior national team, he can also use the huge Ghana platform to improve his CV and increase his market value.
It goes without saying that the coach's performance in the first two years can either guarantee him a second term or otherwise. That is why he cannot afford to take any chances when his appointment takes effect on February 1.
Ghanaians will have the first opportunity to assess the little-known Serbian trainer when the Black Stars play Congo Brazzaville in an Africa Nations Cup away qualifier on March 27. And two weeks later, Stevanovic is expected to have his baptism of fire when Ghana play England in a high profile international friendly at Wembley on March 29.
After that the new Stars coach is expected to qualify Ghana for the Equatorial Guinea/Gabon 2012 Nations Cup and win the continental trophy with the Black Stars in the 2013 edition.
That is the target set by the GFA for the Serbian who can be given a second term to take Ghana to the Brazil 2014 World Cup depending on how he fares.
Ghana can be third time lucky with Goran if only he can learn from the mistakes of some white coaches who handled the Black Stars in the past. And veteran coach and former GFA chairman, Ben Koufie, could not have said it any better when he cautioned the Serbian to focus on his core business of coaching and desist from player management which led to some compromises in player selection on certain occasions.
That can be described as a wise counsel from a man who has seen it all in African football, both as a coach and an administrator.
Another key factor which will go a long way to determine Goran's fate is how best he can manage the big ego of the Black Stars players.
As Stevanovic prepares to start work, I can only wish him well and expect him to make good use of the numerous talents Ghana can boast of to take Ghana football to another level in world football.
At least, he can end his first term by leading Ghana to break into the top 10 countries in the FIFA rankings.