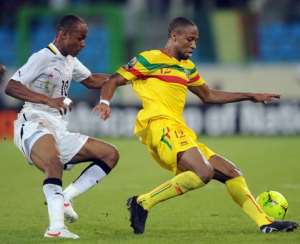 The Eagles of Mali inflicted a 2-0 victory over Ghana to win bronze in the AFCON 2012 tournament.
A goal in each half from Diabate, with a seemingly harsh red card to Isaac Vorsah in the second half meant Mali will win a medal after picking silver in 1972 and will secure a sweet revenge against a Black Stars team they had lost to by a similar margin in the Group stage of the competition.
Cheick Diabate set the Eagles to a flying start in the 23rd minute after reacting quickly to a rebound.
Adam Kwarasey had a parried a shot struck low onto the path of the Bordeaux striker who made an easy tap into an empty net from close range.
The goal came against the run of play after a delightful start by the Stars but who failed to test Oumar Sissoko in post for the Malians.
The Stars performance showed how delectable they are in midfield and just how dormant they could be in the final third.
With star striker Asamoah Gyan on the bench- after being 'scape-goated' by fans for a penalty miss against Zambia in the semis- the Stars showed just how impotent they could be in front of goal.
Not even a shock substitution from Goran Stevanovic which saw Samuel Inkoom out for a striker Prince Tagoe could change the attacking fortunes for the otherwise superb Stars side.
The closest the Stars came in the first half was a rampaging run from Kwodwo Asamoah on the left of attack but his incisive cross went too close to Sissoko who made a brave save before Tagoe could wreck havoc.
The match was played in high tempo- did not look like an exhibition third place match- Tempers flared from time to time and cards flew to Jordan Ayew, Samba Sow and matching off orders to Isaac Vorsah.
It was same story for the Black Stars in the second half, dictating the pace but failing to test Sissoko. And when Vorsah was given the marching off orders for an outstretched leg on a Malian attacker, it was time for the Eagles to take the game to the Ghanaians. Dembele who had early on had a tough battles all night with Vorsah now had the freedom to maneuver and set the Stars defence in turmoil.
In the 81st minute, a great defence splitting pass to Tamboura on the left was just what the Eagles needed to crown a a night of organised play. Tamboura whipped in an immaculate cross to pick up Diabite who had been sandwiched between Lee Addy and Jonathan Mensah. But the Bordeaux strike managed to connect for a sweet Mailian revenge.
The Stars had a Jodan Ayew half volley thumping the cross bar and a terrible miss by his senior brother Dede Ayew to crown yet another disappointing results for the Black Stars.