Stars clip Eagles wings to shine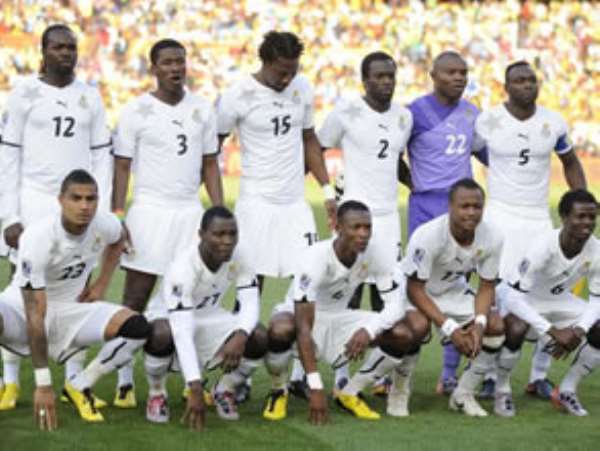 Franceville, Jan. 29, GNA-The Black Stars of Ghana dug deep to produce a 2-0 win to clip the wings of the Eagles of Mali in a cagey second Group D clash to light the path for a passage to the quarter finals of the African Cup of Nations being hosted jointly by Gabon and Equatorial Guinea.
The Stars chasing a fifth continental trophy in three decades, needed a convincing win to oil their path to the next stage of the competition with two individual efforts from Asamaoah Gyan and Andre 'Dede' Ayew.
After an ordinary first half that produced no thrills and no goals, it was the Stars that came to light slightly after the break with Ayew signalling the team's intent with a long range that was split by Mali's goalkeeper Sissoko Oumar.
Sulley Muntari and Gyan arrived a shade late to connect the rebound which will inspire the Stars to pour out, though cautiously.With Malian Seydou Keita leading the Eagle's discipline at the middle and back, Ghana had to think of positive ways to change the patten.
Soon, the team seemed to have found the antidote but after Muntari, who came off worse in an earlier clash with keeper Oumar was sacrificed for debutant Charles Sakyi, had wasted a free kick just before exiting, From then Gyan made himself the Stars new taker of the spot kicks, alternating with hard working Emmanuel Agyeman Badu.
Ayew who appeared lost throughout the first half would suddenly break from the flanks, ran at the Mali rear and cut deep in a manner that triggered a response that brought him flying meters away from the box.
Gyan and Badu conferred briefly and soon, Gyan stepped forward to curl one over the wall that zoomed past Oumah in post eight minutes after the hour mark to give Ghana the lead and send the fans into wild jubilation.
The Stars and their supporters danced and jubilated in a way that summed up their relief. From then on, it was mission to look for a consolidation goal, which will come only eleven minutes on.
A pass from the wings picked out Gyan who played a one- two with Ayew. The former squared one back to the latter who made a brave dart deep into the Malian defence, wove, twisted and turned before squeezing one from a tight angle past keeper Oumar to solidify Ghana 's lead.
The second goal demoralised the Mali team who needed all points as well to make progress to the quarter finals a little easier even before the last round of Group matches on Wednesday.
The Stars from then begun to entertain with skills and easiness that proved satisfactory for a team tagged as the tournament's favourite.
Line-up:
Adam Kwarasey, John Painstil, Alhassan Massawudu, Jonathan Mensah, John Boye, Anthony Annan/ Derek Boateng Andre 'Dede' Ayew, Agyeman Badu, Kwadwo Asamoah/Samuel Inkoom, Asamoah Gyan, Sulley Muntari/ Charles Takyi.
By Veronica Commey, (GNA Special Correspondent in Gabon, Courtesy Ministry of Youth and Sports)