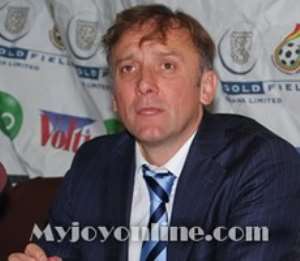 Eleven days ago, Goran Stevanovic celebrated his first milestone as Ghana coach preparing the Black Stars for the tournament that he is craving to win, the African Cup of Nations.
A day after he signed his two year contract to coach Ghana, Stevanovic announced to the media when he was unveiled that he wanted the team to be 'first again'.
"It's been many years since Ghana won the African Cup. But it's time for trophies. It's time to be first again, it's been a while," Stevanovic said then.
Inspired by an impressive form in the run up to the 2012 competition, the Black Stars qualified after finishing tops with 16 points, recording five wins and a draw in six games. Ghana scored a total of 13 and conceded just a goal.
And a year and some days into his career with Ghana, the Serbian is been presented the perfect opportunity to end Ghana's 30-year wait for the African title by making it title number 5.
With Ghana starting their Nations Cup campaign against Botswana on Tuesday and also having to deal with Guinea and Mali in Group D, Stevanovic's position from his first press conference in Accra hasn't changed.
"I think that we have now some of the players who know how to compete and play in some of the big teams in Europe. Now I think is a good time to try and get this trophy. I think for Ghana, 30 years is a lot of time to stay without the trophy," Stevanovic said ahead of the start of the competition.
There is a refreshing realism amongst the supporters having seen Ghana claim bronze in 2008 and finish as runners up two years ago.
Certainly, there's been considerably progress by the Black Stars, who reached the quarter-finals at the 2012 World Cup. And that continues to fuel expectations.
"Ghana is a football nation, they like and they are fanatics for football and I think that we have positive energy too and everybody believe that we can do it," he said.
Analyst and pundits have tipped the Black Stars as favourites for the title but Stevanovic believes Ghana simply cannot afford to overlook the strength of other contenders.
"I think teams like Senegal, Ivory Coast, Mali and other teams would be very, very important opponents for us and will be very dangerous for us."
Stevanovic's resolve to win the title should provide Ghanaians and their fans some hope.