GCA ends justify your inclusion for ECOWAS tour 2012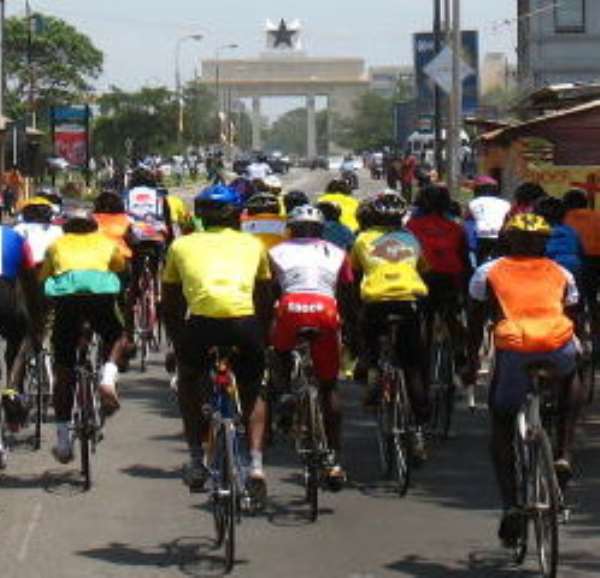 Accra , Jan. 17, GNA - Seven Cycle Clubs from the Greater Accra Region have completed a special justify your inclusion exercise organized by the Ghana Cycling Federation (GCF) ahead of the ECOWAS Tour, which is scheduled to begin from Lagos, Nigeria through Benin, Lome, Togo, Ada, Ghana and thence to Cote d'Ivoire from February 13th – 20th.
A distance stretch of 22.5km each covering a total distance of 45km along the Accra- Aflao road was the individual time trial test for 18 cyclists who had to battle to qualify to be candidates for the Prestigious ECOWAS engagement next month.
In-form Young Stars roller- Samuel Anim completed the distance in 1hr 10min, 7 seconds ahead of fellow Cowbell Tour of Ghana Yellow Jersey compatriot, Henry Tetteh Djangmah of Die Hard who made it in 1hr 11minutes.
Ghana's dependable sprinter Nuru Pardie came third in a time of 1hr 8seconds, whilst, Sunyani -based wonder kid; Anthony Boakye completed the race with an adult range time of 1hr 15mins inside the same distance of 45km to place forth.
The Federation is expected to conducts further tests in other Regions across the country to complete the lists of 10 cyclists from which the best six will be selected to represent the country.
Shabaan Mohammed, Technical Director of the Federation told GNA Sports that all arrangements have been enhanced to ensure a successful hosting the event in Ghana with collaboration between the Local Organising Committee and the Ada Traditional Authorities as well as other opinion bodies in the area.
He called on the public, especially motorists and residents along the route from the Aflao border through Ada to Tema and thence to Takoradi to cooperate with the riders and be part of the unique occasion to ensure an exciting and incident-free event to be co-hosted by Ghana, come this early February.
GNA