'Nations Cup Cash Not Enough'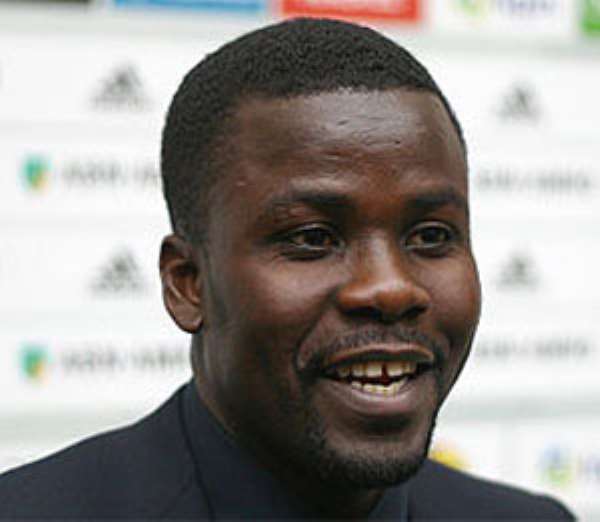 Samuel Osei Kuffour
Ex-Black Stars defender Sammy Osei Kuffour is calling on officials of the continent's football governing body Confederation of Africa Football (CAF) to reconsider the prize money for the Nations Cup.
The stalwart defender believes the $2m cash as prize money for the ultimate winner does not befit the competition's status.
He therefore called on CAF as a matter of urgency to take a critical look at it.
Sharing his Nations Cup experience at a media event put together by SuperSport Ghana in Accra a few days ago, he stated, 'If you compare the $100m prize money for the winner of the Champions League then the $2m is peanut. So the organizers must do something about it.'
Responding to whether the two-year duration of the Nations Cup should be extended to four years, he said, 'I don't have any problem with the two-year interval.
'I believe talents abound in Africa, and the Nations Cup gives budding talents the chance to showcase what they are made of,' the former Bayern Munich defender added.
Victor Ikpeba, ex Super Eagles star on the other hand proposed that a four-year interval should be considered to ensure proper preparations.
To the former Nigerian international, the four-year interval would also take care of the challenges African players face with their foreign managers when it comes with their release for the African showpiece.
 Ikpeba, now spotting dreadlocks, revealed that the Equatorial Guinea/Gabon championship would be tight saying, 'This Nations Cup will be tight considering the strong emergence of the 'smaller' soccer countries.'
He however predicted a Ghana-Cote d'Ivoire final while Sammy Kuffour predicted a Ghana-Guinea final with the former winning.
By Kofi Owusu Aduonum