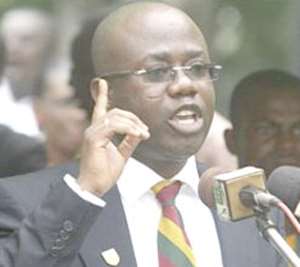 Ghana's medical team for the Africa Cup of Nations will be further strengthened with the appointment of the famous placenta healer, Mariana Kovacevic.
The Serbian is renowned for her horse placenta treatment which heals injured players quicker than stipulated time.
Her services was first engaged by the Ghana FA during the 2010 World Cup after a recommendation by then coach Milovan Rajevac.
She was largely credited for the impressive medical status of John Mensah during the tournament in South Africa.
The Ghana FA has thus resolved to bring her in as a compliment to the Black Stars medical team for the Nations Cup and will be immediately tasked with the quick recovery of Asamoah Gyan.
'We have had a series of discussions and a number of consultations with the medical team and the general view is that we should take Asamoah (Gyan) along to the competition,' Ghana FA boss Kwasi Nyantakyi said.
'We are engaging extra medical assistance to bring him back earlier than the anticipated three week break he is supposed to take.
'During the last World Cup we had the services of a Serbian therapist called Mariana who did a lot of work to bring back players from injury to fitness within a relatively shorter period and we expect to engage her services again this time.
'And so injuries that are supposed to take a player away three weeks probably we'll record some successes within one and a half or maximum two weeks to recover so we can have the player back to action immediately.'
Mariana is expected to join the team right from it's camping on January 7 in South Africa once a deal is reached.    
The Belgrade housewife, who treated Premier League stars such as Frank Lampard, Robin van Persie and Glen Johnson at her clinic two years ago, had previously been enlisted to help several top players.    
Several Serbian national team players have confirmed that Kovacevic treated their soft tissue injuries.   
Her methods involve electrical impulse therapy and massaging affected muscle areas with placenta fluid.   
Arsenal striker van Persie was the first English-based player to visit her, after damaging ankle ligaments on international duty, and was soon followed by Manchester City's Pablo Zabaleta, Vincent Kompany and Nigel de Jong and Yossi Benayoun and Albert Riera.
Ghana begin their quest to end the 30-year wait for an African title on January 24 against debutants Botswana.
The Black Stars will then tackle Guinea and Mali in subsequent group games all to be played in the Gabonese city of Franceville.