Ivory Coast holds first post-Gbagbo elections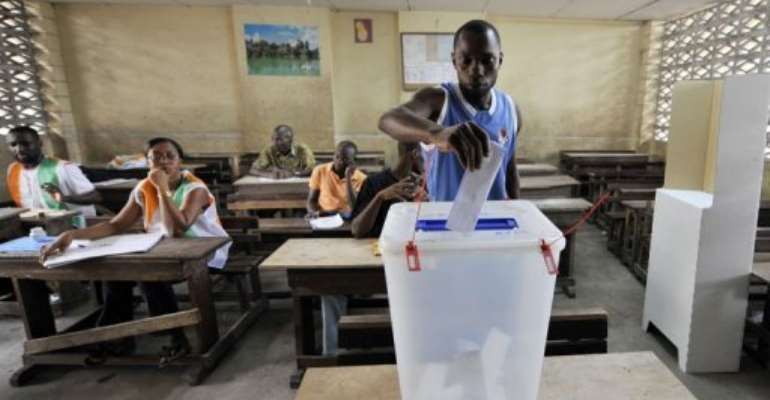 ABIDJAN (AFP) - Ivorians voted Sunday to elect a new parliament in a poll boycotted by the party of former strongman Laurent Gbagbo, who is awaiting trial in The Hague for crimes against humanity.
"I came to vote so that Cote d'Ivoire can find peace again," said Mathieu Kouakou, a mechanic, after he cast his ballot in Abidjan's bustling Adjame district.
With Gbagbo sitting in an International Criminal Court (ICC) cell, the coalition backing President Alassane Ouattara is widely expected to gain a majority of the 255 seats in the new assembly.
The vote comes only a year after the poll that brought the world's top cocoa producer, once a beacon of stability in the west African region, to the brink of civil war in a conflict that claimed some 3,000 lives.
And it follows a week of campaigning that left five people dead.
Some 25,000 members of the Ivorian security forces, backed by 7,000 members of the UN peacekeeping mission, will be deployed to ensure security during the election in this country of 21 million people.
"Acts of violence, intimidation or obstruction cannot be tolerated," said Bert Koenders, the head of the UN mission.
Prime Minister Guillaume Soro on Thursday issued an "urgent appeal to all political parties and candidates to put an end to the violence surrounding the (parliamentary) election."
He had noticed the presence of military personnel in the campaign teams of some candidates, he said, adding that they would be "identified and punished."
Initial turnout was low at Abidjan polling stations visited by AFP journalists in Adjame as well as Koumassi, where the main market is located, and in the central city of Bouake.
Sangare Sanissi, a voter in Adjame, told AFP: "This is to turn the page on a black period in our country. We're too tired, we have to go forward."
Only around 10 people were waiting along with Sanissi to vote at a polling station where dozens had turned up for the disputed November 2010 presidential poll.
In Bouake, a Ouattara stronghold, turnout appeared far lower than in last year's vote.
Trader Mariam Coulibaly, 49, a local official for Ouattara's Rally of the Republicans party, said: "We must vote for our country's reconstruction and reconciliation."
A septuagenarian farmer Drissa Diallo, wearing a long white tunic, was among the first to vote in Bouake's working-class Dar Es Salam district.
Showing his ink-stained finger, he said: "I hope the elections will bring a final end to the crisis so the country can regain its stability."
After a political and military crisis lasting more than a decade, weapons including home-made guns, Kalashnikov assault rifles and rocket-launchers are circulating freely in the country.
About 5.7 million voters will cast their ballots, with polling stations to close at 5:00 pm (1700 GMT), watched over by 150 international and 3,000 Ivorian observers.
Election results are expected mid-week.
Violence erupted in the former French colony after the November 2010 presidential run-off when Gbagbo, who held on to his job five years after his initial mandate expired in 2005, refused to concede defeat to Ouattara.
He was eventually captured in his presidential palace by pro-Ouattara forces in April 2011, with support from French and UN troops.
Ouattara, 69, came to power in April. He now faces the daunting task of reconciling the divided country and integrating the rebels who fought for him into the pro-Gbagbo armed forces.
He must also breathe new life into the economy, which shrank six percent during the crisis this year.
Gbagbo's Ivorian Popular Front has called its champion's transfer to the ICC a "political kidnapping," denouncing what they call "victor's justice" and vowing to pull out of the reconciliation process.
The ICC has carried out an investigation parallel to Ivorian justice, looking into crimes against humanity and war crimes committed by both Gbagbo loyalists as well as Ouattara supporters.