Adwoa Safo Cries For Dome Traders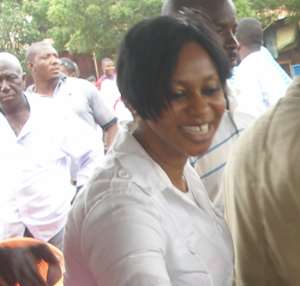 Lawyer Adwoa Safo
THE NEW Patriotic Party (NPP) parliamentary candidate for Dome/Kwabenya constituency, Adwoa Safo, has sympathized with traders at Dome market in Accra following a police raid on them Tuesday morning.
She described as very disheartening and heartbreaking the raiding of the Dome market and the entire market stalls by a combined team of police and the military, facilitated by the Ga East Municipal Assembly in the wee hours of the day, destroying the entire belongings of the unsuspecting market women.
It would be recalled that angry-looking Dome market women clashed with the personnel of the Ghana Police Service Wednesday morning over an eviction exercise, with one young lady almost stripping herself naked in protest.
The market women were said to be up-in-arms against the police following a dawn demolition exercise at the market in a move to forcibly evict them.
In a statement issued yesterday, Adwoa Safo said the raid was inhumane and nauseating, considering the inappropriate time of the action.
She was anguished that such a barbaric act could be unleashed on them 'just around the time when Christmas is fast approaching, a period where these sellers are supposed to sell and earn a living to celebrate the yuletide'.
'In fact, these men and women who sell in the market have not only lost the places they sell but have also lost most of their wares which are estimated to be hovering around several million of Ghana cedis.
'I find this action by the assembly very inhuman, abhorring and distasteful and therefore would want to condemn it in no uncertain terms and caution the assembly to apologize to these women and the necessary remedies made to them in these trialing times,' the NPP parliamentary candidate for Dome/Kwabenya decried.
The action of the assembly, she observed, was 'contradictory to the father for all mantra composed by His Excellency Professor John Evans Atta Mills who has always been touted to be God-fearing. A God-fearing president should not sit idle as a section of his flock suffers'.
According to her, the issue of the reconstruction of the Dome market had come up over and over and despite consistent pleas to the assembly to find an alternative place for the market women to sell, the request had fallen on death ears, leading to the show of wanton display of power and without recourse to prior notice to the market women.
'I therefore empathize with these displaced women in these trying times and to urge them that the necessary pressure would be brought on the authorities to reinstate these displaced market women,' Adwoa Safo assured the market women.
By Awudu Mahama