Essien Visits British Parliament To Promote Work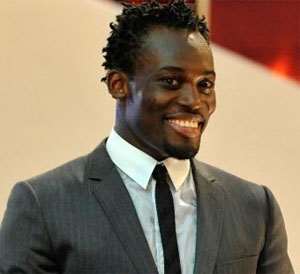 Michael Essien
Chelsea star Michael Essien was at the Houses of Parliament in London on Wednesday to help promote the work of Parliamentarians in helping achieve the Millennium Development Goals.
To raise awareness for the forthcoming International Parliamentary Conference on the Millennium Development Goals, and to highlight the contribution that sport can make in promoting global solidarity and development, Commonwealth Parliamentary Association UK organised a penalty shoot-out in Parliament on Wednesday 23 November 2011.
In attendance were the Speaker John Bercow, other members of Parliament, Michael Essien, Patrick Vieira, Kelvin Jack and Sam Sodge
Michael was also supported by Akosua Puni - Head of the Michael Essien Foundation - and her team.
Also in attendance were Emma Wilkinson - Head of Communications and Community Affairs at Chelsea along with her team and Chelsea TV
About 30 MPs took part in the penalty shoot out and chatted to the players and the various representatives about the work they are doing to support the needy in our society
The Speaker John Bercow spoke about the MDGs as well as encouraging members to adopt a goal or two
Akosua Puni then spent about 3 minutes telling MPs about the work of the Foundation and how they were in line with the Millenium Development Goals
Emma Wilkinson talked about how Chelsea are also doing their bit to support MDGs through their community projects and supporting players like Michael Essien
Patrick Vieira then rounded off the speeches when he discussed the work he is doing for kids in Africa as a UN ambassador and through his own charitable activities
The day's events will be shown on Chelsea TV in the coming weeks.
Source: Ghanasoccernet