HEARTS/KOTOKO SETTLE FOR GOALESS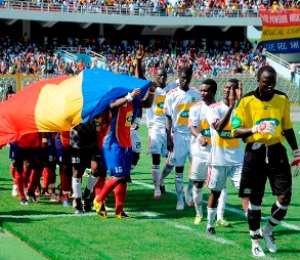 The much talked about Hearts/Kotoko clash ended in a goalless drawn game at the Accra Sports stadium thus leaving the 'Porcupine Warriors' on top of the table with a clean sheet from seven matches played.
Both coaches were tactically alert cautioning their fullbacks to be weary of how to join the attack in order not to allow the opponent to capitalize on it. Kotoko's attack was much potent and called Sammy Adjei to duty in the early stages of the game Kotoko's but Nathaniel Asamoah wasted a couple of chances in the first half.
The real show down of the game was in the midfield where Hearts had the likes of Uriah Asante, Thomas Abbey, Isaac Ofori and Moro Abubakar against Kotoko's Yahya Mohammed, Michael Akuffo, Michael Anaba and Daniel Nii Adjei.
These midfield quartet of both clubs rose above themselves to sell a beautiful bread of match to the numerous supporters who came from North, South, East and West to witness the game in their numbers amidst singing and chanting.
Kotoko took control of the midfield in most part of the first half especially when Hearts livewire Uriah Asante had to be substituted half way through the half due to an injury he sustained from Yahya Mohammed's tackle.
In the second half however, the Phobian's totally took control of the middle with some blistering performances from former Windy Professional's midfielder Thomas Abbey, the young Isaac Ofori, the hard Knox Moro Abubakar and the experienced Esme Mends who came to replace Uriah Asante.
Defensively, the Phobia's back four of (Nana Bobbie Ansah, Owusu Sefa, Philip Boampong and Kofi Agyare) for the first time in two years handled the Kotoko attackers with a lot of intelligence to making them look ordinary anytime they pushed forward.
In a similar fashion, the Porcupine Warriors secret in defence came from their fullbacks (Baba Abdul Rahman and Yaw Frimpong) who exhibited some very good and cautious performance.
Tactically, coach Vucecevic had it wrong for playing Mahatma Otoo as the lone man upfront because in modern football a lone man upfront should either be bulky in order to force his way through the opponent defence or be swift and possess a lot of speed as well to open up the defence wide.
Sammy Adjei in post for Hearts also showed his worth with some good saves to keep his side in the game. At the end of the game both clubs grabbed one points each leaving one point to the supporters who came from far and near to cheer them up.
SQUAD
HEARTS KOTOKO
Sammy Adjei Soulama Abdoulaye
Bobbie Ansah Yaw Frimpong
Owusu Sefa Baba Abdul Rahman
Philip Boampong Ohene Brenya
Kofi Agyare Awal Mohammed
Moro Abubakar Yahya Mohammed
Uriah Asante Michael Akuffo
Isaac Ofori Daniel Nii Adjei
Thomas Nkrumah Anaba Michael
Douglas Nkrumah Nathaniel Asamoah
Mahatma Otoo Ahmed Toure