Sepp Blatter says sorry for comments on racism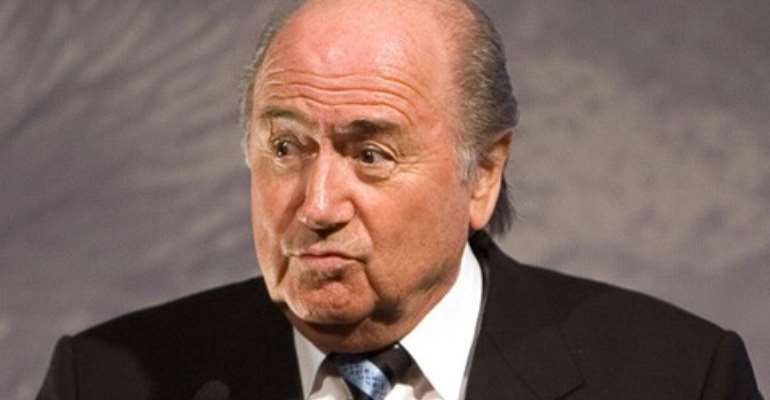 Sepp Blatter has told the BBC he is sorry for causing offence with his controversial comments on racism.
The Fifa president appeared to suggest on Wednesday that racial discrimination could be settled with a handshake.
"It hurts and I am still hurting because I couldn't envisage such a reaction," said the 75-year-old Swiss.
"When you have done something which was not totally correct, I can only say I am sorry for all those people affected by my declarations."
Blatter insisted his "fight against racism and discrimination will go on" and said he would not resign, despite calls for him to quit by numerous British players, managers, administrators and politicians.
"I cannot resign," he told BBC sports editor David Bond in an exclusive interview. "Why should I?
"When you are faced with a problem you have to face the problem. To leave would be totally unfair and not compatible with my fighting spirit, my character, my energy."
Blatter admitted his comments had caused a "serious incident" and that he had used "unfortunate words" which he "deeply regretted".
He also said any players found guilty of racism on the pitch should be thrown out of the game.
"Zero tolerance," he said. "This was a good lesson for me as well."
Blatter's comments about racism, made earlier in the week, caused consternation in England.
Manchester United defender and former England captain Rio Ferdinand accused the Fifa president of "ignorance", while David Beckham described Blatter's remarks as "appalling".
Beckham added: "I don't think the comments were very good for this game. [Racism] can't be swept under the carpet and it can't be sorted out with just a handshake."
Blatter tried to clarify his stance when speaking to Fox Soccer on Thursday but his interview with the BBC is the clearest acknowledgement yet that his comments caused offence.
Tokyo Sexwale, the South African minister included in a photo with Blatter when Fifa put out a statement on Wednesday night saying the Swiss's comments had been misunderstood, commented: "It is important that such conduct [racism on the pitch] is rooted out from the field of play without any equivocation.
"Nevertheless I am satisfied to state that I had a telephone conversation with Mr Blatter [on Friday morning]. He indicated that he would be issuing a statement to apologise without any reservation. It takes a big man to say 'I'm sorry'. In Fifa, we kick the football and not the man."
Chelsea manager Andre Villas-Boas believes Blatter's apology should be the end of the issue.
"To put in doubt the leadership of Sepp Blatter as Fifa president is not for me to say or managers to say," he said.
"Blatter made his apologies today and end of story. When a person assumes he has made a mistake, it's for all of us to accept a mistake was made.
"There are things that should have been avoided in the first place. But at least there is humility."
Everton boss David Moyes criticised the timing of Blatter's comments and called for the Football Association (FA) to speed up their disciplinary process.
"The comments were completely wrong and misplaced, especially when we have one or two things currently going on in this country," he said.
"Maybe if it [the FA's investigations into allegations that John Terry and Luis Suarez made racist remarks] had been dealt with a bit quicker, Sepp Blatter would not have made the comments or the question would not have been asked of him. Or, maybe, he would have answered in a different way."
Reacting to Blatter's apology, FA chairman David Bernstein said it was the right move.
"Mr Blatter has made it clear he will not resign but his apology today was necessary," he commented. "His initial comments were wrong and irresponsible.
"As I have said many times in the past, with power comes responsibility and I - with others in prominent positions in the game - have to make sure we live up to the values of which we speak.
"I am mindful that - this week's comments aside - Fifa as an organisation does much good work around the world."
David Davies, a former acting chief executive of the FA, said Blatter's apology was "fulsome" and agreed it was the correct thing to do.
"It's churlish not to welcome someone saying sorry for the offence they have caused," he said.
"He basically thinks that resigning would be weakness, though, and there are not calls from around the world for that to happen."
In his interview with the BBC, Blatter also addressed the recent poppy controversy involving the England national team.
The FA wanted to embroider a red poppy on to players' shirts for the friendly with world champions Spain to mark Remembrance Day.
But it was prevented from doing so by Fifa, which argued that such a move would set a dangerous precedent.
Asked whether he would apologise for any offence caused, Blatter said: "Yes, sure. If I had been informed on the first day of such a demand, I would have immediately said 'yes'. Full stop."