Medeama SC cautiously optimistic ahead of the premiership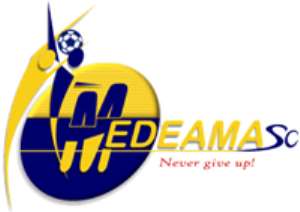 Accra, Sept. 5, GNA – The owner and bankroller of Premier League side, Medeama FC, Moses Armah has said his side is cautiously optimistic ahead of the 2011/12 Premier League and looking forward to make a significant impact in the season.
Armah in an interview with GNA Sports said the team has embarked on quality recruitment ahead of the coming season, adding that they have also taken steps to correct most of the deficiencies determined in the team last season.
"Last season we discovered that there were some loopholes in some departments and the recruitment that were made were aimed at sealing such holes to make the team stronger and formidable for the coming season.
"I am very sure that we will be able to lift up our performance in the coming season and be among the top or even win the premiership if possible". Armah noted.
"I cannot give a straight prediction about our chances in the league, but we have a very formidable team that is capable of making a great impact in the competition". He added.
Coach Bashiru Hayford added that the success in the recent Kofi Annan competition in Cape Coast was an indication of the ability of the team to perform better in the upcoming League.
He said they are also looking forward to the Ghana League Clubs Association (GHALCA) G8 Competition, where they aim to annex the trophy to boost their records.
Coach Hayford said the playing body had over the past undergone very smooth preparations, with the old and new players blending so well.
Asked whether his side will be able to win the Premier League, coach Hayford said, "I don't make predictions, but I'm looking forward to a very good season.
"It's a competition, we will do our best, if the opportunity presents itself, we will grab it but I'm confident my side will do well".
The Tarkwa-based Club has so far recruited eight new players with former Kpando Heart of Lions shot stopper and a member of the 2010 Ghana's World Cup squad, Stephen Ahorlu as one of the prominent players.
The other newly registered players are Tanko Mohammed, Osei Berko, Francis Coffie, Kwame Adjei Bekoe., Godfred Rockson, Sumaila Atia and Seidu Yakubu.
GNA