Dan Owusu Bemoans Goal Famine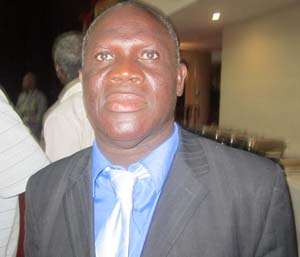 Three-time Ghana goal-king Dan Owusu has expressed concern about modern-day Ghanaian striker's inability to score prolifically like marksmen of yester-year.
In a chat with DAILY GUIDE SPORTS at the John Barnes press conference at Citizen Kofi  in Accra a few days ago, the former Bofoakwah forward revealed that he  finds it difficult to understand why  present-day strikers struggle to hit the back of the net even in the 18-yard box.
Considered one of the best strikers to have graced the turf in Ghana, Owusu, from obscurity banged in 24 goals in the 1973/74 league season, increased the tally to 26 goals in the '74/75 season and again raised the bar to an impressive 28 goals in '76, the same year he was adjudged best footballer in Ghana.
The 60-year-old ex -Black Stars player believes he would have scored more  goals in the current league than he did close to four decades ago stating, 'Defenders in our days were stronger and tackled harder than what I see nowadays yet, I was able to outwit them.'
And responding to what might have accounted for the goal famine, he pointed out that 'most of our strikers are not creative, they don't use their brains in front of the 18 (yard box).
'A typical striker should be intelligent, a speedster and very creative when approaching a goalkeeper,' Owusu added.
Citing a golden opportunity 2009 world best U-20 player, Dominic Adiyiah missed in the England-Ghana game at Wembley a few months ago, he said, 'He should have watched the goalkeeper from afar. The keeper was advancing and so the best thing to have done was to lob it and not a grounder as he did.'
Currently a coach, Owusu held on to that enviable feat as the only striker to have won the goal-king title for three consecutive times until former Hearts of Oak player Ishmael  Addo equaled  the record in 2000, 2001 and 2002.
By Kofi Owusu Aduonum