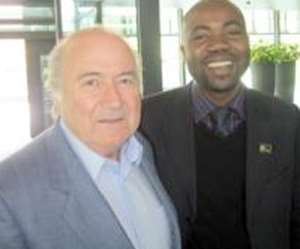 Travel and tours giant African Origin has been named by match organizers JV2i Consult as the official travel agency for the Ghana-Nigeria international friendly slated for London on August 9, 2011.
As a result, a travel package has been put together by African Origin which has been offered 1,000 match tickets to enable many football loving fans of the Black Stars to travel to the UK to cheer the team to victory when they face Nigeria at the Vicarage Road Stadium.
At a high-profile press launch of the Ghana-Nigeria match at the Ghana High Commission in London last Wednesday, JV2I directed all those in need of match tickets to contact the accredited agency in this regard and have their tickets secured on time ahead of the game.
The CEO of JV2i Consults, Justine Addo was emphatic on why African Origin was chosen out of the travel agents who showed interests in the partnership, saying, 'It is with pride that I say here that African Origin Travels And Sports Tourism have been appointed as the official travel partner in charge of all the 1,000 tickets for people in Ghana.'
The match is expected to attract a high patronage needed to fill the over 17,000-seating capacity stadium.
Responding to questions from the media, the chief executive officer of African Origin Travels and Sports Tourism, Samson Deen stressed how his outfit had worked hard to secure the sole rights for the sale of tickets allocated to all supporters coming from Ghana for the match.
'I am very excited that what we're witnessing here today is a clear indication of the level of credibility that my company has achieved over the years,' he stated.
In all, 26 media houses including Asempa, Adom, Happy, Hot, Fox, Ghanasoccernet.com, all from Ghana, as well as BBC, CNN, VOA, VOX Africa, Ben TV, OBE TV, Sky Sports and The Mail from the Diaspora, were in attendance.
Ghana's High Commissioner to the UK Prof Kwaku Danso Boafo, GFA spokesperson Randy Abbey, Nigerian Football Federation FIFA match agent Jairo Pahon, match organizer Addo, Black Stars Captain John Mensah were also present.