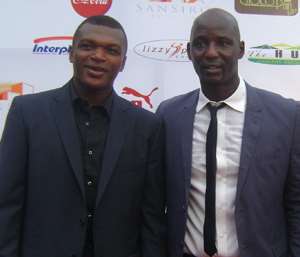 Marcel Desailly with Tony Baffour (right)
Former Captain of the French national football team, Marcel Desailly's ultramodern sports facility has been launched in Accra amid cultural pageantry.
The ceremony, which took place last Saturday, was attended by current and former footballers as well as business men at the Complex's East Legon premises.
The 5.2 acre (40 plots) Lizzy Sports Complex, named after the footballer's inspirational mother (Elizabeth Addy), is an all-in-one complex, comprising four top quality  grass football pitches, five changing rooms, semi Olympic size swimming pool, a table tennis foyer, a multipurpose course for basketball, volleyball, handball, tennis as well as a 16 bedroom accommodation for football clubs.
It also has a lounge, sports bar and grill, an academy and football training programe for children aged between nine and 16.
In his address, Desailly paid a glowing tribute to his late mum who inspired him to acquire the land.
http://www.dailyguideghana.com/wp-content/uploads/2011/06/marcel_complex.jpg
From L-R: Sly Tettey, Osei Kuffour, Stephen Baidoo, Odartey Lamptey and Austine Ahinful
The former Chelsea star said the fact that his step dad, who was then a French Diplomat, was against his becoming a footballer, also stirred him to come this far.
'When I told my step dad I wanted to play football at age 13, he told me I was crazy. I actually did this for my mum, she encouraged me to trace my roots and wanted to prove a point.
'I now see football as business that entertains. I spent three years of my life on this project, the first of its kind in West Africa intended to train young footballers,' he added.
He expressed gratitude to all who supported him, especially Azar  Chemical Industries, for providing  Shield Acrylic Paint for the painting of the facility.
President of the Ghana Football Association (GFA) and the Minister of Youth and Sports Ruben Nii Nortey Dua in their remarks commended MD Investment Limited, facilitators of the complex and Sansiro Estates for the project and pledged their support for it, as it strives to develop soccer talents in the country.
Prior to the commissioning, former Black Stars players thrashed their media counterparts 7-1 in an exhibition game.
By Kofi Owusu Aduonum