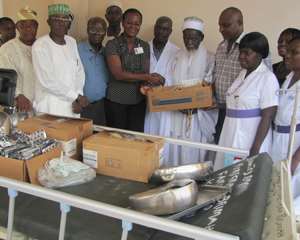 THE PEREGRINO-Brimah family of Accra has donated medical items to the Dematology Department of the Korle-Bu Teaching Hospital.
The donation, which was made by the National Chief Imam, Sheik Osman Nuhu Sharubutu, on behalf of the family, constituted wheelchairs, walking aids, stoppers, syringes, hospital beds, patient trays and tourniquet.
Alhaji Yunusah Osman, a staff of the hospital who spoke on behalf of the National Chief Imam, said the donation to the hematology department was in response to the needs of department.
'The chief Imam, in consultation with those of us on the field, decided to give this donation on behalf of the Peregrino-Brimah family to the Hematology Department,' he said.
He said the family hoped the medical items would be put to good use.
Receiving the items on behalf of the hospital, Dr. Ivy Ekem, Head of the Hematology Department, said the medical equipments would help transform the day care department into a ward.
'With the donation of these medical items the day care Hematology Department will be equipped to become a ward.'
Dr. Ekem, on behalf of the department, thanked the Chief Imam and the Peregrino-Brimah family for the donation. She assured the family that the items would be used and not sold.
By Jamila Akweley Okertchiri