Konadu, a de-facto president for 19 years will never be president again- Collins Dauda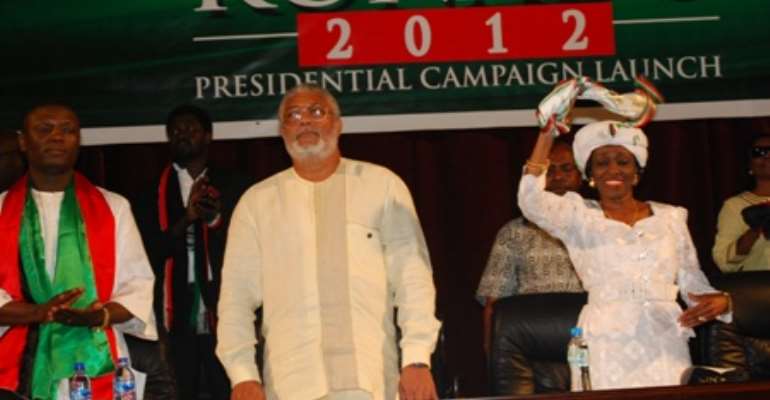 Transportation Minister, Collins Dauda has completely ruled out a Konadu presidency in the country.
Whilst pledging his unflinching support for President John Mills' second term in office, Mr. Dauda maintains ex-first lady Nana Konadu Agyeman-Rawlings can never win an election to become a president in Ghana.
The minister was part of a strong government delegation, regional executives, and supporters of the NDC who thronged the National HQ of the ruling party on Thursday to show solidarity to President John Mills who had come to pick the nomination form for re-election as flag-bearer ahead of the party's primaries in July.
Speaking to Joy News' Sammy Darko the Transport Minister, Collins Dauda, minced no words in scuttling the presidential ambitions of the ex-first lady.
"Nana Konadu so far as am concerned will never win elections in Ghana as president of this country. It will never happen. This country will never accept Konadu as the president of this country.
He explained "She (Konadu) has been a de-facto president for 19 years under [her] husband's presidency. She was the de-facto president and on no account will Ghanaians vote Nana Konadu as president. So if I want a president for my party I will not vote a Nana Konadu," he argued vigorously.
He maintained the general mass of NDC supporters have declared their support for John Mills and has no choice but to support him.
The minister of Science and Environment Sherry Aryittey who has been a long time friend and confidante of the ex-first lady has also thrown her support for President John Mills.
Sherry Aryittey is a leading member of the 31st Women's Movement, a movement the ex-first lady chairs.
Aryittey told Sammy Darko she has made a choice to support President John Mills and there will be no turning back.
"It's a matter of choosing and I have chosen Prof Atta Mills. He has demonstrated very good leadership qualities. Transparency, accountability, honesty, people-centred man," she touted.
She said her decision to support Mills has nothing to do with the perceived competence or otherwise of her good old friend. They remain friends, though, she intimated.
Story by Nathan Gadugah/Myjoyonline.com/Ghana