'I will Be A Champ Again'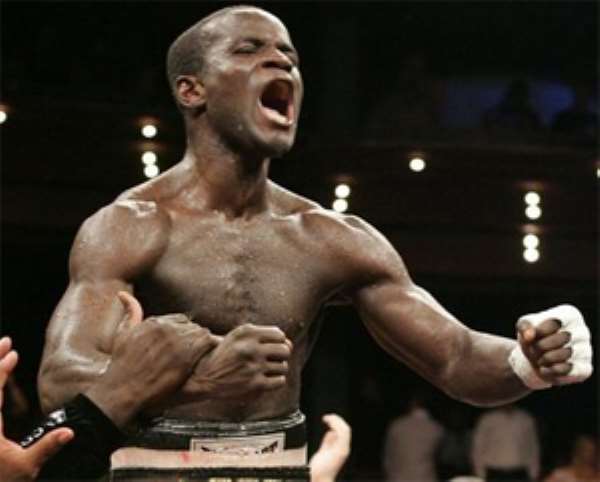 Joshua Clottey
Exactly a year and two months after relinquishing his IBF crown for the unification bout against Manny Pacquiao, Joshua Clottey is brimming with optimism to restore his lost crown.
Barring any unforeseen hitches, the former welterweight champion, who has moved up to the Junior Middleweight division, will mount the squared ring in June against a yet to be named opponent in America.
'I will be a champion again and this time round, I will have  more room to operate. My former manger did not have my interest at heart and the experience was like working for somebody,' he said this at a press conference last Monday in Accra.
Clottey (35-4,20Kos) noted that his series of steamy gym works, mental toughness and the quest to restore his lost glory has kept him on his toes to bounce back as world champion.
The boxer advised compatriot, Joseph Agbeko to remain calm as he plans a return to the ring after a fall before his fight against Mexican Anber Marez.
Clottey, who is well composed and physically trimmed for the June challenge, won a ninth round technical decision over former two-division world champion, Zab Judah in August 2008.
Last year, Clottey battled the world's best pound for pound boxer, Pacquiao for supremacy in Alington, Texas  at the Dallas Cowboys Stadium but failed to live up to expectation.
A few months ago, Clottey was scheduled to fight Calvin Green in their Middle weight contest but the Ghanaian fell, resulting in ankle and wrist injuries while undertaking road work in Bronx, New York in March.
Kofi  Owusu  Aduonum