Impressive swings at Quartey Memorial Golf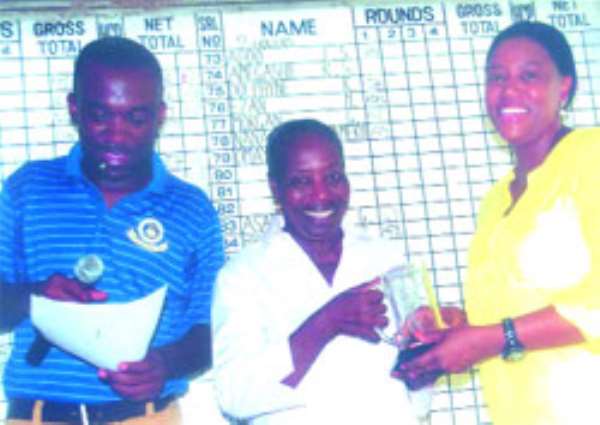 : Mrs. Carol Boakye, grand daughter of PD Quartey receives her 9-Hole prize from Betty Brown.With them is Obeng Appiah, treasurer of Achimota golf Club
An impressive display of swings resulting in great scores characterized the Quartey's Memorial Golf Tournament played at the Achimota Golf Club last  Saturday.
The 18-Hole competition, played in honour of the late PD and  Dr Sydney Quartey, both avid golfers  attracted quite a large following  despite the unfriendly nature of the weather(sunny).
It was K Rosher, playing on handicap 22, who stood tall in the men's 54-year-old and below category with a net of 70, while F Andoh and Kusi Boateng trailed with 73 and 75 nets for the second and third positions respectively.
The men's 55-years and above saw Agyeman Agyekum 74net reigning supreme with E. Addo Mensah74 beating , Gyimah Kwakye  on count back and Bannerman-Wood following in that order.
Vetch-Bempong, playing on a double handicap of 12, recorded  a net score of 75 to win the lady's 55-years and above event, while Peace Akwei, 76net and Suzie Abaloo-Kumassah,77 net trailed in that sequence.
Betty Brown emerged tops in the lady's 40 and above.
M. Anderson won the lady's 54-years and below event after recording a 78net score with Leticia Amponsah-Mensah, 79net, winning the second spot.
Light skinned G. Morgan finished first, beating Mike Ezan, 44,  in the 9-Holers event  with a 42 score.
For their excellent performance, the winners took home glittering trophies donated by the Quartey family.
A special prize (Oldest player prize) was presented to JS Addo, a trustee of the club and a student of P.D. Quartey.
Kenneth Quartey, one of the grandson's of P.D. said in a post-tourney interview that the Quartey family has purposed to continue  with the sponsorship of  the memorial  competition to preserve the good works of PD and Sydney Quartey for golf in the country, especially  the Achimota club.
Captain Kwadjo Butah, president of the Achimota Golf Club praised the late PD Quartey, a former captain and president  of the Achimota club  for his immense contribution to the  club.
He commended the golfers highly for honouring the invitation.