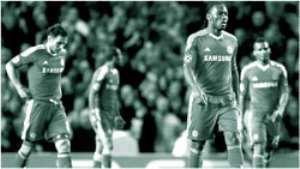 Chelsea is planning to rid the squad of ageing players
http://ghanaian-chronicle.com/sports/football/big-stars-under-threat/attachment/a-608/
Chelsea is planning to rid the squad of ageing players
Tuesday night's Champions League exit at the hands of Manchester United virtually ensured that last season's Double winners will end the season without a trophy under Carlo Ancelotti. While the manager's own future is the subject of intense speculation, it is the composition of the Chelsea playing staff that will definitively be addressed in the summer.
Chelsea are ready to embark on one of the biggest transformations of the squad since Roman Abramovich's arrival in English football in 2003, with established stars such as Didier Drogba, Frank Lampard and even John Terry potentially at risk in the long term.
A source said: "It's been known within the club for some time that there are too many over 30s, and it has been a gradual operation to find the right young players, but now the time is right to speed up the plan to bring in younger players and to phase out the over 30s."
It is understood that the club want to intensify their efforts to lower the average age of the squad – a policy that has been in place for some time and in the summer resulted in the departures of players such as Michael Ballack and Joe Cole.
A fresh purge this summer is likely to see right-backs Paulo Ferreira and Jose Bosingwa depart Stamford Bridge, but there could be more high-profile victims in West London.
Chelsea are determined to afford 18-year-old midfielder Josh McEachran more opportunities in the first team next season as he has been identified as a future England international and a player to inject some dynamism and creativity into the Chelsea side, alongside summer signing Ramires.
As well as Nicolas Anelka, Drogba's place is also under threat. The £50 million signing of Fernando Torres has seen the Ivory Coast star relegated to the bench at regular intervals and with Ancelotti's attack failing to gel, Drogba could well be replaced.
In defence, the immediate success of January signing David Luiz means the Brazilian will be the automatic first-choice at centre back, and that captain Terry is under considerable pressure from both Alex and Branislav Ivanovic.
Though it may be too early to jettison such an influential player, it is felt that the acquisition of Luiz could be the first step to phasing Terry out.