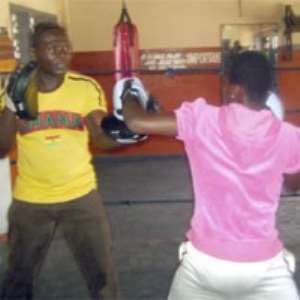 Boxing legend, Azumah Nelson's popular declaration after his thrashing of Australian giant, Jeff Fenech- 'Father and son'- aptly describes the tale of coach Ofori Asare and his daughter Lillian Asare.
Coach Asare has hankered to raise a male amateur boxing side, but he is yet to realize that long cherished dream.
'I started with a male side, but financial constraints, lack of logistics and other challenges has thwarted my efforts,' he said in plain words.
Giving meaning to the adage, 'Charity begins at home', he is currently teaching his daughter, Lillian to take up the sport.
Even with his own daughter, he said, 'My wife and Lillian herself initially kicked against the idea, but I have managed to school them and they now understand my vision.'
Speaking to DAILY GUIDE SPORTS at the Attoh Quarshie Boxing Gym last Saturday, he debunked the notion that boxing was a violent sport saying, 'We have always believed in the lie that boxing is violent, and that has made us lag behind.
'I have been encouraging Lillian to watch fights. I take her along to watch fights, and her interest has heightened,' added the coach.
Lillian, 13, is a pupil of New Order Preparatory at James Town, and it is the father's wish that she reaches the highest level in boxing.
By Kofi Owusu Aduonum