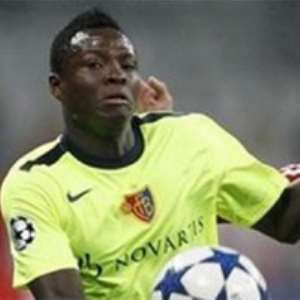 FOUR STAFF members at Kumasi Asante Kotoko's lavish Odeneho Kwadaso Secretariat have been invited by the police in connection with a theft case at the place.
Kotoko management woke up on Friday to the news that some unknown persons had stolen the file containing documents of the transfer of Samuel Inkoom to FC Basel of Switzerland.
Strangely, the door of the room where the Inkoom transfer file was stolen from has not been tempered with- a development which has heightened speculations that insiders might have been hired to steal the file.
The names of the four persons invited by the police were not immediately disclosed but sources hinted they are suspected of having a hand in the stealing incident.
A Kotoko source hinted DAILY GUIDE SPORTS that those invited by the police included security men and other workers of the office of the Porcupine Warriors.
Recently, there has been a controversy in the camp of Kotoko over the transfer of defender Samuel Inkoom to FC Basel of Switzerland about a season ago.
The hullabaloo cropped up when Inkoom earned a mega dollar transfer from FC Basel to Dnipro FC of Ukraine last week which made the player one of the best paid Ghanaian players.
Some Kotoko faithful are of the conviction that the club is supposed to amass 10 percent of any contract fee of Inkoom from FC Basel to any other club in future.
Other Kotoko fans are also asserting that the Porcupine Warriors sold Inkoom outright to FC Basel so the club should not expect even a dime from Inkoom's recent lucrative deal.
Annoyed about what was going on, Executive Board Chairman, Dr. K.K. Sarpong wrote to FC Basel to send down a copy of the Inkoom contract for him to study.
Dr. Sarpong promised to do a thorough job and even went ahead to say the Board will expose any official that engaged in a shady deal concerning the Inkoom transfer.
From I.F. Joe Awuah Jnr., Kumasi