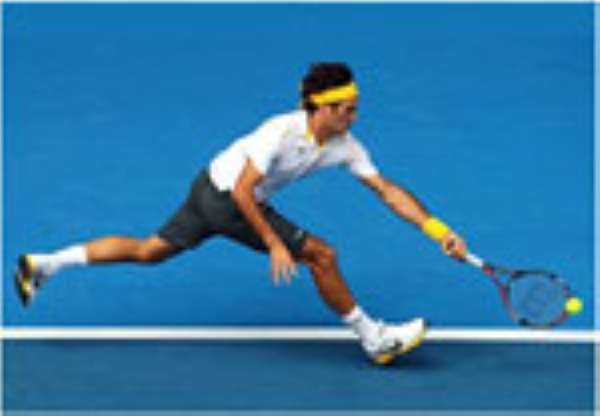 Roger Federer
Roger Federer didn't waste any time yesterday at the Australian Open, winning his opening match by playing like a man who doesn't want his remarkable 7 1/2-year run of success in Grand Slams to end.
Federer was rarely troubled in beating Lukas Lacko of Slovakia 6-1, 6-1, 6-3 in 84 minutes on the first day at Melbourne Park, barely waiting for ballboys and ballgirls to get back to their positions before serving.
The win came at Rod Laver Arena, a stadium named after the player who Federer's main rival here— Rafael Nadal—is trying to emulate.
Nadal has won three majors in a row—last year's French Open, Wimbledon and U.S. Open. So unless Federer can win the final on Jan. 30, it will be the first time since winning Wimbledon in 2003 that the Swiss star hasn't held at least one major title.
His 24-year-old Spanish rival is trying to make it four in a row and complete his 'Rafa Slam.' Laver won all four in 1969, a true calendar year Grand Slam.
'I tried to play offensive from the start and see where it takes me,' Federer said after his easy victory over Lacko.
'I was able to keep on pressing, put him on the back foot. I was really happy I chose that tactic early on to pressure him.'
Andy Roddick was rarely under pressure in his 6-1, 6-2, 6-2 win Jan Hajek of the Czech Republic.
The eighth-seeded American is trying to end a Grand Slam drought. His one and only major came at the 2003 U.S. Open.
'I had a good off season,' Roddick said. 'I feel healthy and strong for the first time in a while. I certainly feel like I'm prepared.'