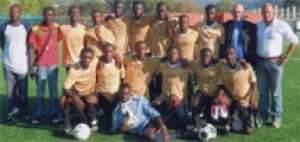 A group picture of Ghana Young Stars with their handlers
Africa and World under-20 champions, Ghana's Black Satellites, are likely to play a select side of Ghanaian players born in Italy called Ghana Young Stars in a pre-Africa Youth Championship friendly in Italy by the end of the month.
The founders and originators of the Ghanaian club in Italy are close to concluding talks with the Ghana Football Association to agree on the date and venue for the big game aimed at sharpening the skills of the Satellites and to bring Ghanaian fans in Italy to wish the Satellites well.
The President of the Ghana Young Stars, John Tsagli, jetted into the country last week to conclude talks in particular with the Satellites Management board for tickets for the match to go on sale.
After four years as the welfare manager of Italian Division One side, As Virtus Guidizzolo Convocazioni, Mr Tsagli, together with the coach and partner, Godfred Owusu Brisaa, decided to put their expertise together to occasionally bring talented Ghanaian players born in Italy, but who have never visited Ghana before, to come together to play.
The community team which has players aged between 17 and 21 have been making waves in Italy lately, with some of them yearning to play for their home country, Ghana, one day.
Although most of them play for separate clubs, they occasionally group together in the name of identifying their roots and connecting to their people in Ghana.
The Ghanaian expatriates are said to have taken the planned match seriously and have subsequently invited 17 players to begin camping.
They are goalkeeper George Osae Opaku, defenders Frederick Sam, Bismark Dwura, Samuel Ouattara, Joseph Ameyaw, Richard Asare.
The midfielders are made up of Emmanuel S. Acheampong, Frank Gir Atak, Dennis Asamoah, Manuel Duah (captain), Isaac A. A. Okra, Isaac Ofori Wiredu and Junior Mensah Elliot.
Daniel Elliot Mensah, Francis Obo Junior, Daniel Amponsah and Godgred Obo are the strikers.
The Black Satellites are in Group B with Nigeria, Cameroun and The Gambia for the March competition in Libya.