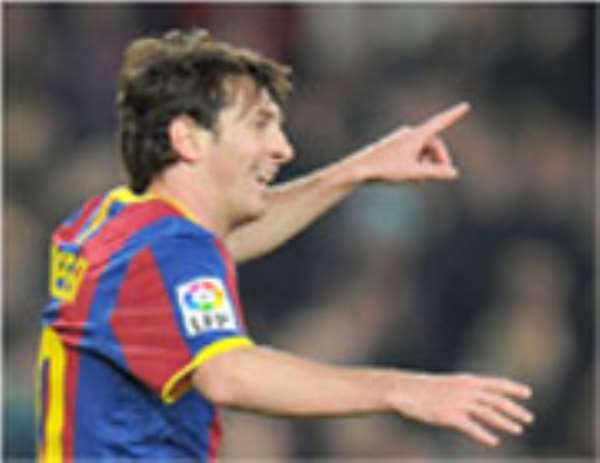 Messi, celebrates one of his hat-tricks
Lionel Messi scored three goals in his first game since winning his second straight FIFA player of the year award, and Barcelona routed second-division leader Betis 5-0 Wednesday night in the first leg of the Copa del Rey quarterfinals to tie its unbeaten streak record at 27 games.
Messi scored in the 44th, 64th and 73rd minutes for his third hat trick of the season. Pedro Rodriguez added a goal in the 76th minute, and Seydou Keita headed in Andres Iniesta's flick in the 83rd.
Messi won the Golden Ball, with Iniesta second and Xavi Hernandez third as Barcelona provided all the finalists for Monday's announcement by FIFA. Messi has 31 goals in 27 games for Barcelona this season.
Flanked Xavi and Iniesta on the field before kickoff at Camp Nou, Messi showed the trophy he picked up in Zurich to fans.
'I think today any debate over who deserved the Ballon d'Or was settled,' Barcelona defender Daniel Alves said. 'He deserves it.'
The Blaugrana, who matched the unbeaten mark they set in 1973-74, scored five or more goals for the eighth time this season. The second leg of the total-goals series is at Betis on Jan. 19.
'In the first half we weren't good at all, but in the second half we played at a great level, and we can say that the series is decided,' Xavi said.
In the other first-leg quarterfinal, New Jersey-born Giuseppe Rossi scored his 17th goal of the season as Villarreal tied defending champion Sevilla 3-3. Alexis Ruano scored a tying goal for Sevilla in the 88th minute.
Cani and Marco Ruben also scored for the Yellow Submarine, and Alvaro Negredo had two goals for Sevilla. Goal