Stevanovic unveiled as Ghana coach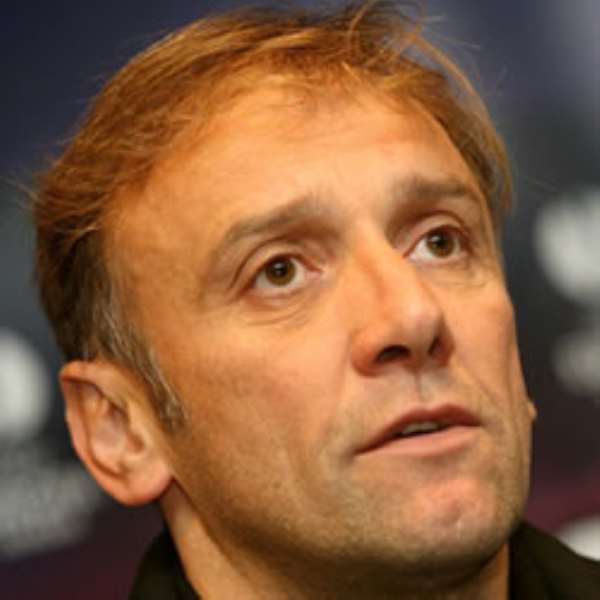 New Ghana coach Goran Stevanovic has promised to make the national team "first again" after being unveiled by the Ghana Football Association on Wednesday.
The Serbian, 44, will officially start in his new post on February 1.
Stevanovic said: "I am delighted and grateful to be chosen to coach the highly respected team, Ghana. I know many coaches would have liked to be in my shoes and that makes me delighted with the challenge," the new coach said.
Stevanovic acknowledged that managing Ghana will be very exciting but says he is confident he can work well with his players and gain their co-operation too.
"My job would not be easy but I am delighted. My biggest challenge would be to motivate the players to believe they can do better because they have achieved a lot. I must also congratulate my predecessor [Milovan Rajevac] for the work he did.
"To me, Ghana is among the best five team in the World and I need to make sure we continue to achieve."
The former Partizan Belgrade and assistant Serbian national team coach says he will seek to build on Ghana's silver winning performance at the African Cup of Nations and the quarter-final finish at the 2010 World Cup, a feat masterminded by his compatriot Milovan Rajevac who saw out his two-year contract last year.
"It's been many years since Ghana won the African Cup. But it's time for trophies. it's time to be first again, it's been a while," Stevanovic said.
Stevanovic, who has signed a two-year contract with an option to renew on the FA's insistentce, said it was a "dream come true" to take the Ghana job.
"I am here to be a champion. I am certain that all of us want to be champions. We all want Ghana football to improve. I assure you that I am motivated for the challenge."
"I am here to make the Black Stars shine even better," he said.