Hodgson Apologises To Liverpool fans over 'criticism' comments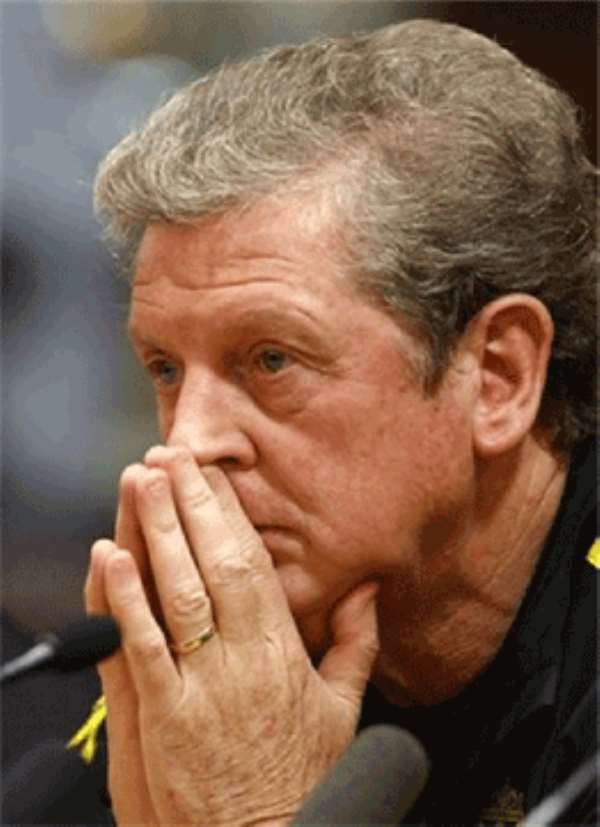 Liverpool boss Roy Hodgeson

Liverpool boss Roy Hodgson has delivered an apology to the club's supporters.
Hodgson has come under fire from Liverpool fans following a spate of uninspiring performances and a series of comments that the Reds boss feels were misinterpreted.
With fans venting their anger after the 1-0 loss at home to Wolves on Wednesday, Hodgson claimed that he has not been given the chance to prove his worth at the club.
Speaking at a press conference, the Anfield boss insisted that his comments were not a slur on the loyalty of Liverpool supporters.
"I am disappointed in that. I regret it if I have offended anyone in any way. It wasn't meant to be an offensive comment from my point of view, it was meant to be a truly defensive comment," he said.
"I went on to say that, while describing my situation as not being able to win them over with the performances, I was taking responsibility and was quite prepared to take it on the chin. I am the one in the firing line after a poor performance and I fully understand and sympathise with them.
"I am disappointed that has been changed into me attacking the fans. There is no way I would want to do that and there is no way that would be justified either, because everybody knows the Liverpool fans and the support from the fans is the best in the country.
"I am also aware that to get the best out of that support you have got to play well and give them something to support. We didn't do that on Wednesday night and I would have been surprised if their reaction was any different from what it was."
He added: "All I can do is apologise and make it perfectly clear there was nothing offensive in my comments."
Hodgson feels that his relationship with the fans is at breaking point, but that their overall loyalty towards the cause can never be questioned.
"They support the club and they support the man who is in charge of the club," he said.
"I just feel that from the start it has been an uphill struggle. I don't think they necessarily got behind the appointment, and there was no reason why they should. They were prepared to give me the chance to get the team playing well and for them to get behind it but, with that not having happened, I can only accept what has happened, with them turning against me.
"I still believe, though, that they are still very much behind the club and if we start to turn things around, they will be behind us all."
With reports already surfacing that Hodgson is on borrowed time, a dramatic upheaval is expected at Anfield.
He is adamant, though, that the club's ambitions have not been altered, with Champions League qualification by no means out of the question.
"That's always been the ambition of the best part of the teams that aren't fighting relegation, that's their major goal, and there is no reason why a major club like Liverpool shouldn't have it as a goal either," he said.
"But of course it is going to be very difficult and our immediate preoccupation has got to be to get ourselves into that top half of the table and within some sort of touching distance.
"If we succeed in doing that, then maybe the question becomes relevant. But it's not relevant at this moment in time with the next seven games coming up."