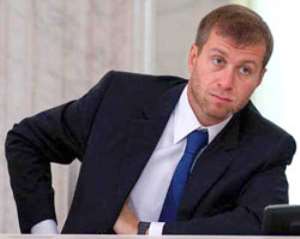 Roman Abramovich
Roman Abramovich, the billionaire owner of Chelsea football club, is to take a leading role in preparations for World Cup 2018 after Russian prime minister Vladimir Putin indicated he should 'open his wallet' and help pay for the championship.
Abramovich, who already bankrolls the Russian national team, was a prominent member of Moscow's delegation to Zurich, where Fifa last week awarded Russia the right to host the competition.
While he usually shuns publicity, the tycoon could be seen grinning and embracing other members of the delegation, including Arsenal and Russia midfielder Andrei Arshavin.
Abramovich, 44, is expected to stump up millions of dollars as the country embarks on a £2.4bn plan to build 13 new stadia and renovate three existing ones.
A further £7bn is needed to improve tourism infrastructure, in particular to build affordable hotels for fans.
John Mann, a spokesman for Abramovich's holding company, Millhouse Capital, confirmed the businessman was willing to contribute 'in partnership with the state'.
He provoked anger when he bought Chelsea in 2003, leading critics to say he was neglecting his homeland, where many football clubs struggle with ageing facilities. Abramovich, meanwhile, claims he is simply a fan of the game.
In the past his Sibneft oil company sponsored the former army club, CSKA. And in 2004 he established a national football academy that has built 70 artificial surface pitches for schools across the country.
The academy also paid for new training facilities for the national team, and forked out about £1.6m annually for former manager Guus Hiddink and his staff.
Russian media reported that Abramovich was to invest more than £500m to build a new stadium on the edge of Moscow. The 44,275-capacity arena would be the 'best equipped' in the world, they said.
Mann denied the claim, but hinted that other plans were already in the pipeline.