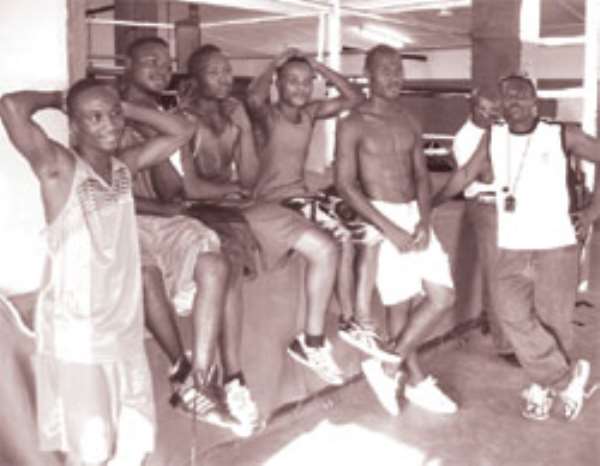 Some member of the team poses for our cameras during our visit to the gym
The University of Ghana's (UG) Rugby team has emerged champions of the first ever Greater Accra Rugby Gala, which was organized by the regional Rugby Association at the El-Wak sports stadium, Accra.
UG defeated Accra Sharks by 22 trials to 5 to win the competition, which attracted some of the best teams in the Region, as well as two participants from Cape Coast Municipality.
For their prize, UG took home a giant trophy with GH¢ 300.00, with the second placed team also receiving a trophy and GH¢ 200.00, whilst Oguaaman Ocean Warriors from Cape Coast picked the third position. In the Ladies division, Abura Bomber Ladies grabbed the first spot to receive the trophy at stake plus GH¢ 100.00 as their prize.
The Gala is the first of its kind in the region and attracted officials from the Ghana Rugby Association (GRA) and the National Sports Council (NSC). It was aimed at preparing the grounds for the impending Greater Accra Rugby League and the Confederation of Africa Rugby (CAR) Congress, fixed for December 8th to 12th, 2010 in Ghana, at the Airport West Hotel.
Mr. Frank Boahene, Chairman of the Greater Accra Rugby Association (GARA), in an address expressed satisfaction with the level of performance of the participating teams.
He said the performance so far exhibited is a clear indication that the sport is catching up well with the youth.
Mr. Boahene said the event has also enhanced the image of the sport in Ghana, saying many more people are expressing interest in the sport. "In the past many people had negative perception about Rugby, but they have now realized that it is not a harmless sport, but a friendly one", he stated.