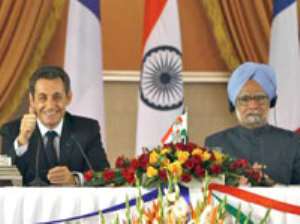 Nicolas Sarkozy and Indian Prime Minister Manmohan Singh in New Delhi
France has signed a 7-million-euro deal to supply two nuclear reactors to India following a meeting between French President Nicolas Sarkozy and India's prime minister, Manmohan Singh. The deal could account for nearly half of the expected overall value of deals being brokered during Sarkozy's four-day visit to India.
'This is, in a way, India's show of gratitude to France for it support to India, even during the 1998 nuclear testing,' when many countries imposed sanctions but France did not, said RFI correspondent Vikram Roy in New Delhi.
The deal is not a final sale agreement, but it does move the french-run state nuclear group, Areva, ahead of competitors from the US and Japan.
'Negotiations (with French state-run energy giant Areva) have reached an advanced stage to pave the way for the launching of nuclear power reactors in Jaitapur (in the western state of Maharashtra) in partnership with Indian industry,' Prime Minister Manmohan Singh told a joint press conference.
Deals totalling 15 billion euros will be concluded with Indian companies during Sarkozy's trip, according to a Sarkozy office spokesperson. Other deals already made or soon to be finalised include a leasing agreement for 14 Airbus planes and the modernisation of 51 Mirage fighter jets.
Sarkozy reiterated his support for India to have a permanent seat on the United Nations Security Council and suggested it should upgrade its current temporary seat in 2012. 'It's a question of balance in the world. We can't exclude a billion individuals,' said Sarkozy, referring to India's population of 1.2 billion.
Sarkozy's junket follows other trade-centred voyages recently made by British Prime Minister David Cameron and US President Barack Obama.
It comes ahead of trips by Chinese Premier Wen Jiabao and Russian President Dmitry Medvedev, as major players look to take advantage of the opportunities provided by an emerging India. Other agreements were inked regarding closer cooperation in space, climate control and arts and culture.  Aljazeera