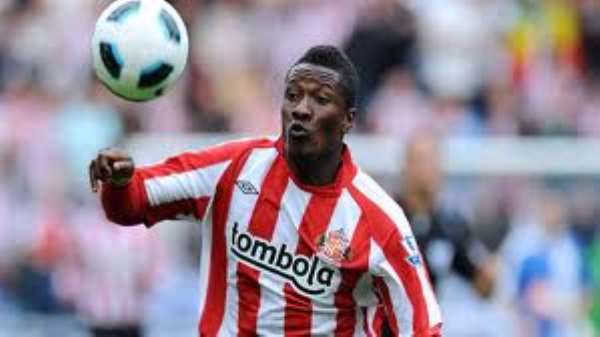 Asamoah Gyan

Asamoah Gyan tops MTNfootball.com's poll for the best African player in the English Premier League this season, with the Ghana striker picking up 37.8 percent of the vote.
Over 12,000 votes had been cast by the time of writing and the Black Stars striker, who had a great 2010 FIFA World Cup and signed with Sunderland at the start of the season, comfortably topped the standings.
In second place is Gyan's Sunderland teammate, Egyptian midfielder/wingback Ahmed Al-Muhammadi.
The Pharaohs player, who picked up 25.6 percent of the votes, is another newcomer in the North East of England but he is fast becoming an important and popular figure at the Stadium of Light.
Third in the list is Arsenal striker Marouane Chamakh. The Moroccan is arguably the best signing of the season so far (the Gunners got him on a free transfer from Bordeaux) and his scoring form for the London club has seen him pick up 18.3 percent of the vote.
Michael Essien is in fourth with 13.5 percent of the votes, while another newcomer, West Brom's Peter Odemwingie, is placed fifth with 2.1 percent.
Didier Drogba is somewhat surprisingly low down in sixth place with just 1.7 percent of the vote, but when one considers Chelsea's lack of form recently and the fact that the Cote d'Ivoire striker has not scored in the Premiership since August, his low ranking makes sense.
Alex Song of Arsenal and Steven Pienaar of Everton come in at seventh and eighth respectively, picking up a combined 1 percent of the votes.
Poll results:
1. Asamoah Gyan (Sunderland/Ghana) – 37.8%
2. Ahmed Al-Muhammadi (Sunderland/Egypt) – 25.6%
3. Marouane Chamakh (Arsenal/Morocco) – 18.3%
4. Michael Essien (Chelsea/Ghana) – 13.5%
5. Peter Odemwingie (West Brom/Nigeria) – 2.1%
6. Didier Drogba (Chelsea/Cote d'Ivoire) – 1.7%
7. Alex Song (Arsenal/Cameroon) – 0.7%
8. Steven Pienaar (Everton/South Africa) – 0.3%