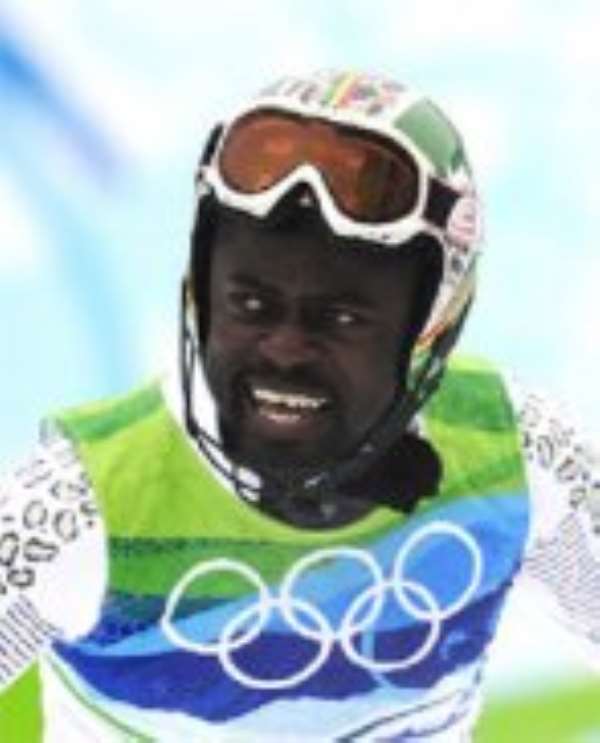 Ghana's first professional skier, Kwame Nkrumah-Acheampong
Ghana's first skier, Kwame Nkrumah-Acheampong, is partnering the Ghana Tourist Board, the National Sports Council and the Canadian Skiing Centre to provide a world- class facility at Mamfe, Akwapim to promote the sport and groom talents to compete at the world stage.
Nkrumah-Acheampong, popular called the Snow Leopard, the first Ghanaian, and perhaps the first black from sub-Saharan Africa to have competed at the Winter Olympics, said it was his way of giving back to society and to grow the sport to an enviable level and hand it over to competent people to handle.
Subsequently, a formal launch to kick-start the construction of the four-acre facility is scheduled for the NSC on December 2 before s good number of foreign media and experts.
The professional ski racer, the Snow Leopard, wants to use his background as a certificate holder in Geography and Tourism at the Cape Coast University and Masters in Westminster University in Tourism Management (MA) to develop the facility into a resort.
If successful, the skier expects to give an opportunity to interested prople below 16 years to use the facility for free while plans are afoot to send talented ones to Canada under the collaboration/partnership for further training.
Already, the Snow Leopard has identified one Emmanuel Yemofio as one of the budding talents and with the arrival of "Snow Boarder," Leigh, from the UK and a Russian of international-acclaim coach, known only as Dennis, Ghanaian potential skiers are expected to have a good start.
The Ghanaian snow man was born in Glasgow 1974 whilst his father was studying for a masters degree at the University of Glasgow.  He later returned to Ghana but also lived in Zambia and Nigeria.
He started skiing in 2000 while he was back in Milton Keyne, UK, and had his first competition four years later in the Giant Slalon in France and was the last surviving finisher.
He promised Ghanaians he would, at least, beat one person at the Vancouver Winter Olympics in Canada early this year and he did just that. He finished 54 out of 56 surviving participants, but it was still impressive against the back drop that most athletes, including former champions, were unable to finish the race.
The Snow Leopard had also competed in Italy, Greece, Bosnia, Germany and France.
He expressed the hope that the project at Mamfe would provide jobs and other opportunities for the young ones.