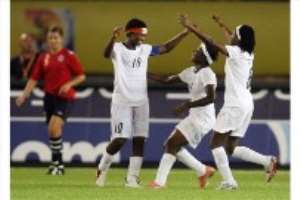 Ghana's Black Queens will engage two German club sides as the perennial tournament favourites readies for the African Women Championship commencing in South Africa later in the month.

The Queens had a warm up to shake off their jet lag late Tuesday only hours after arriving in Hanover and walk into action later today, Thursday to begin their mission of being in good shape to achieve the ultimate.

The Queens will first play BV~Coppenburg, a Liga two side in their first test game as the team seeks to put a final touch to its preparation for the competition that the Ghanaians dream of winning for the first time.

The Ghana team will wrap up its preparations with their second and last test against another Liga two side, FFC, Gutersloft on Tuesday October 26.

The team is scheduled to travel straight to South Africa on Friday, October 29 ahead of their Group B opener with Algeria on November 2.

Ghana are pitted alongside Algeria, Cameroon and defending Champions, Equatorial Guinea in Group B.

The two games lined up are considered as high profile and will offer the team an opportunity to test their readiness for the biennial competition that bring together Africa's best eight teams.

Coach E. K. Edusie told the GNA Sports in Hanover that the strength of the German teams was useful for the kind of fine tuning he yearns for before the Queens begin their campaign in twelve days time.

"The strength of German teams cannot be over emphasized. The quality they have has made them one of the best in football in general and women's football specifically'.

The coach is convinced that the two teams would provide the Queens the needed challenge as they ready for the South Africa event.