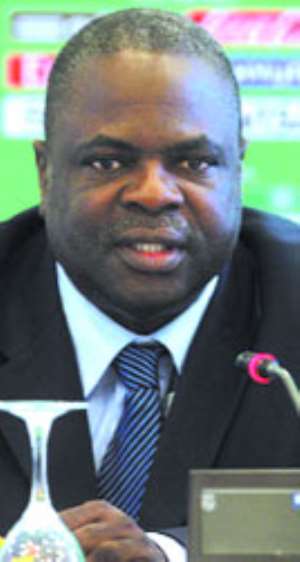 FIFA has opened an investigation into allegations that Nigeria's Amos Adamu offered to sell his vote in the contest to host the 2018 World Cup. Reporters from the Sunday Times newspaper posed as lobbyists for a consortium of private American companies who wanted to help secure the World Cup for the United States.
They approached Amos Adamu, the Nigerian president of the West African Football Union who also serves as a FIFA executive committee member. At an initial meeting in London, Adamu told reporters that he  wanted US$800,000 ($807,673) for his private project.
A statement from FIFA read: 'FIFA and the FIFA Ethics Committee have closely monitored the bidding process for the 2018 and 2022 FIFA World Cups and will continue to do so. 'FIFA has already requested to receive all of the information and documents related to this matter, and are awaiting to receive this material.
Adamu has always been a controversial figure in sports in his country after several allegations of corruption were made against him involving the country's last hosting of the All Africa Games. The most powerful man in Nigerian sport was recently removed from his post after 18 years involvement with the country's Sports Commission.
His removal from the post was suspicious as it came soon after the government rejected the overly huge budget for the hosting of the U17 World Cup.