Queens hopeful of reaching the final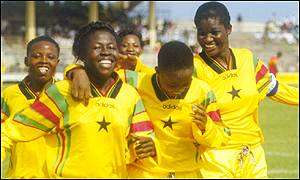 Warri (Nigeria) -- The Women soccer team, the Black Queens, come up against their Cameroonian counterparts on Tuesday in a stiff semi-final duel which also doubles as a qualifier for the Women World Cup in China next year.
The winner of the Championship and the runner up represent the continent at the fiesta, which the Queens have vowed to be one of the representatives. "As far as we are concerned, the battle has just begun. When we were coming to Nigeria, we told God we would play in five matches and asked for his mercy to win all. We have won three, the two will follow as a matter of course", said coach Oko Aryee as he prepares his ladies to battle on Tuesday.
The match scheduled to kick start at 14.30 GMT at Warri City Stadium is expected to draw a very large crowd against the backdrop that the Queens are the only side to have reached this stage without conceding a goal.
The second semi-final match between host Super Falcons and South Africa would be honoured on Wednesday at Oghara. Bookmakers have tipped Ghana and Nigeria to qualify for the finals and probably re-ignite what transpired at the group stages.
The Indomitable Lioness who are well built just like their men, rely mainly on their physic than flair and it is not surprising that all the teams they have clash with are complaining.
Sequel to this, coach Aryee's is working on the physic of the girls to be able to match the Lioness. "My girls have an advantage of enduring to the end and on a good day, we should be able to scale over them", the affable coach told the GNA Sports in Warri.
The moral in camp is high and the Queens are determined to become the first Ghanaian squad to win the trophy. This ambition has galvanised the ladies to step up their training regimen. Number goalkeeper Sulemanu is yet to recover fully from the several knocks she took during their match against the Falcons. She expressed the hope to make the starting line up on Tuesday.
Defender Elisabeth Baidu who missed last Tuesday's game against Ethiopia for receiving two yellow cards would be available to feature for the Queens. Her presence is no doubt going to make the Ghanaian defence watertight.
Meanwhile, the Ghanaian community in Warri visited the Queens at their Casa De Pedro Hotel on Sunday with some Ghanaian dishes including Waakye and Kenkye to make the ladies feel at home. The association headed by Joe Sacketey, have promised the Queens to throng the stadium to cheer them to victory.