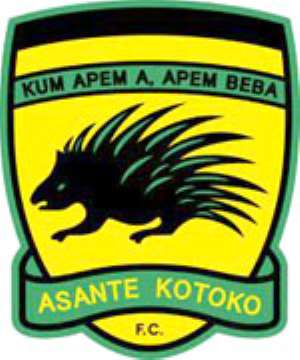 The Chairman of Kumasi Asante Kotoko Football club, Dr. K.K. Sarpong yesterday inaugurated a seven-member board to oversee the running of the club's official mouth piece, the Kotoko Express, expected to hit the news stands next week.
The board, which is a subsidiary of the club, includes His Excellency Kabral BlayAmihere as the chairman, Mr. Kwaku Sakyi-Addo, Mr. Nuamah Famiye, Mr. Ebo Afful, Mr. Kwadwo Addai-Mensah, Ahaji Razak El-Alawa and Madam Mercy Mensah.
The chairman of the club stated that the inauguration of the new board became necessary due to the collapse of the paper, owing to financial  mismanagement that run the paper into huge debt,  saying 'the board decided to take it from the news stands to restructure it.'
He stated that the establishment of the paper was the idea of the former chairman of the club, Mr. Herbert Mensah, in order to feed supporters with information about the day-to-day running of the club.
Dr. Sarpong added that the board will take the club into consideration, alongside the newspaper, stating 'the board will be autonomous from the club in performing their duties.'
Advertisement
He emphasized that a new bank account would be opened for the paper, which will be controlled and operated by the board members, who will be held responsible for any financial impropriety.
His Excellency Kabral Amihere, in his acceptance speech on behalf of the board, underscored that serving on the board is serving Ghana, because it  is through the publication of the paper that Ghana soccer will be known to the world.
He charged his colleagues to prepare for a new journey ahead, since the sky is the limit. He added that although Asante Kotoko Express Newspaper is the mouth piece of Kotoko FC, it will also serve the interest of Ghana football.