SA 2010 as a matter of interesting facts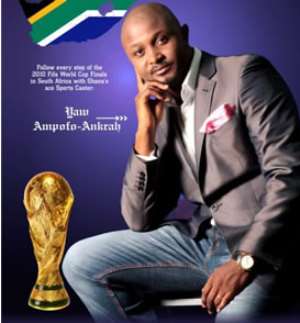 E.Sports Executive Producer and Anchor, Yaw Ampofo-Ankrah, is in South Africa for the just ended 2010 Fifa World Cup won by Spain. He examines the role that facts and statistics played in South Africa and how this valuable data can be used to prepare teams in future.

Not even the greatest authors of fiction or Hollywood's finest directors could have scripted a masterpiece more dramatic than the 2010 Fifa World Cup Finals that ended here last night in the magnificent cathedral of football called the Calabash.

New Zealand, the only unbeaten team to have gone home from the World Cup, defending champions Italy eliminated in round one along with England and France. Argentina losing 4-0 in the quartefinals and Ghana denied a certain semi-final berth by the hand of a striker?

Asamoah Gyan is the only player in World Cup history to have stepped up FIVE times in two world cups to take penalties. He converted three and missed two. At the 2006 World Cup Finals, Gyan was shown a yellow card by referee Horatio Elizondo of Argentina for taking a penalty against the Czech Republic without his permission. Gyan's retake struck against the post. In 2010, Gyan converted against Serbia and Australia but missed a potential match winner against Uruguay before converting during the shootout.
The peotic injustices and rewards reads like a long list of taboos and commandments that has left a trail of unanswered questions and bitter sweet feelings especially for Ghanaians who still feel aggrieved by the "hand of the little blue devil" Suarez.

All the same, SA 2010 was littered with records. New records set and old ones broken.
If you do not trust Paul the Octopus and wish to steer clear of emotional analysis, then the best place to look and ask is Opta.

Opta is the organization leading the "battle of the data" according to the science of information gathering, data analysis and sports research. Opta which covers 30 different sports in over 70 countries, digs deeper, collecting the data that enables sports professionals, the media and fans to analyse for themselves why the winners won and whether they are likely to repeat their success next time.

Whether you believe it or not, Opta's scientific and innovative approach can shed new light on the action and the outcome. For example Opta's analysis of the final match includes some great post-match facts:
• Spain become the first side to ever win the World Cup after losing their opening match of the tournament
• 3547 - Spain have now made more successful passes in a world cup than any team since 1966
• Spain become the lowest scoring side to win the world cup with just eight goals to their name
• David Villa had five shots in the first 90 minutes of this match, though not one tested the keeper
• This is only the second World Cup final to have finished 0-0 after 90 minutes; the other went to penalties
• Spain picked up as many yellow cards in this game as they had in the six previous matches
• Ten of the 12 matches Spain & Netherlands have played at the 2010 World Cup have been decided by a one-goal margin
By Yaw Ampofo Ankrah