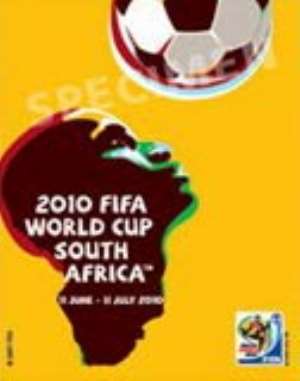 And so, the Ogoni Children Cultural and Fundamental Rights Council (OCAFAC USA), congratulates South Africa. We're obligated to sending this message to the once badly locked country, which interpersonal relations, apartheid had reduced to one of the worst in human history.
While sending our heartfelt gratitude to Nelson Mandiba Mandela and his ever strong people, we also say congratulations to Netherlands and Spain for fighting it out to the world cup finals. Spain is especially congratulated for emerging as the 2010 winner of the most watched, most loved, skilled and most moving and involving sports on earth-soccer.
Although Spain won, South Africa is the overall winner. The once battered, but not broken people proved beyond all reasonable doubt that they've come of age. That, it can compete with any other nation in human planning, coordination or directorship, security and emergency among others.
Also victorious is the Mother of all Nations-Africa. What this national, continental, collective success and victory shows is that humanity moved back home. When 32 nations of the world moved to Africa for the most loved and collaborative game for the first time, a positive and successful human movement has been established. This is a historically and scientifically proven movement, which began centuries ago from what is today known as Africa. It's a friendly and peaceful movement proving we're one people and can progress as one.
It means also that our humanity is one and we can't be complete without looking back to pick ourselves up; those brutally wounded by decades (and current) of inhuman treatment especially. This says we should be our brother's keepers. And that we should do more and better to heal the gory past so that the world will be a much better place to live. The need to preventing future occurrences of inhuman treatment is likewise advised.
To all the nations, which featured in the game, we say, welcome to the Motherland and have a safe journey home. Those who couldn't make it (out of the more than 400 nations which struggled to be in the world cup) and others who didn't take part at all. We also say one love, one people and one dream as you return home, and as we continue our daily and law abiding endeavors. We can work together as one people with common values, struggle, aspirations and direction as the South Africa's 2010 game as proven.
To South Africa therefore, thank you for making your people, Africa and the world proud! The successes so recorded should be your strength to achieving more successes. The aftermaths of this victory shouldn't cow you as you've never been known as a nation that could be cowed. No doubt you've problems and fallout from the world cup may hit.
Stay resolute. Laugh at your problems as you stand on top of them. The democracy that has boomed and brought the glorious world cup should rise beyond fledgling. It should be stronger and like Ghana, it should become light to the larger Africa. Don't give up! Do everything in your powers to make better the lives of the ordinary and all your people. Rugby had united your deeply divided people in 1995. This unity made Springboks (Rugby national team) triumphed over New Zealand. Mandela and his team made it happen. Soccer had brought you together even more. Maintain it!
And to Africa, South Africa's success is a testimony that there is hope. It shows Africa can rise again, but when its peoples become reasonable or rational and all hands are on deck. It implies when dictatorial nations of the continent democratize, respect the rule of law and do right by the people sunshine will come over the Motherland again. The civilization that is synonymous with Africa will come back. Proof yourself; the time is now! To the world, only our collective reasoning, efforts at justice and fairness to one another promise the anticipated peace, security and growth we seek.
This victory by South Africa means we must stop all forms of corruption, inhumanity by man against man. It means politicians/leaders should act responsibly and be accountable. And it also means the African peoples like others must take their rightful place and participate in governance. The people must vote for a leadership that will protect and care for their needs. They must work with the leaders to enact laws that favor them and not what benefit few people or local and multinational corporations alone. They must overcome fear, get involved and bring into place government of the people through credible, free and fair elections. A people who fear their shadows and the present, including the future has no place in the story of victory.
Those who are fearless and imaginative, open and honest, collaborative, innovative and caring gets the joy humanity brings. The much needed change the continent of Africa longs for, but has been elusive will only come with the power of reasoning. Yes, it will surely come when collectivity, focus on the poor and the act of doing right by the people are made customary, a cultural norm over political thuggery, tribalism, nepotism (discrimination), corruption and preventable killings or deaths.
African leaders must stop all forms of injustices, oppression, crimes against humanity, war crimes, genocide, etc. Africans can do this with a political and moral will. South Africa has proven to the rousing ovation of the larger world that nothing is impossible. This is South Africa's moment! It's a moment that should translate into a changing wind that emphasizes Africa's time to be free and advance in unity, human relations, technologically, scientifically is now. Congratulations South Africa for making the Motherland and the world proud!